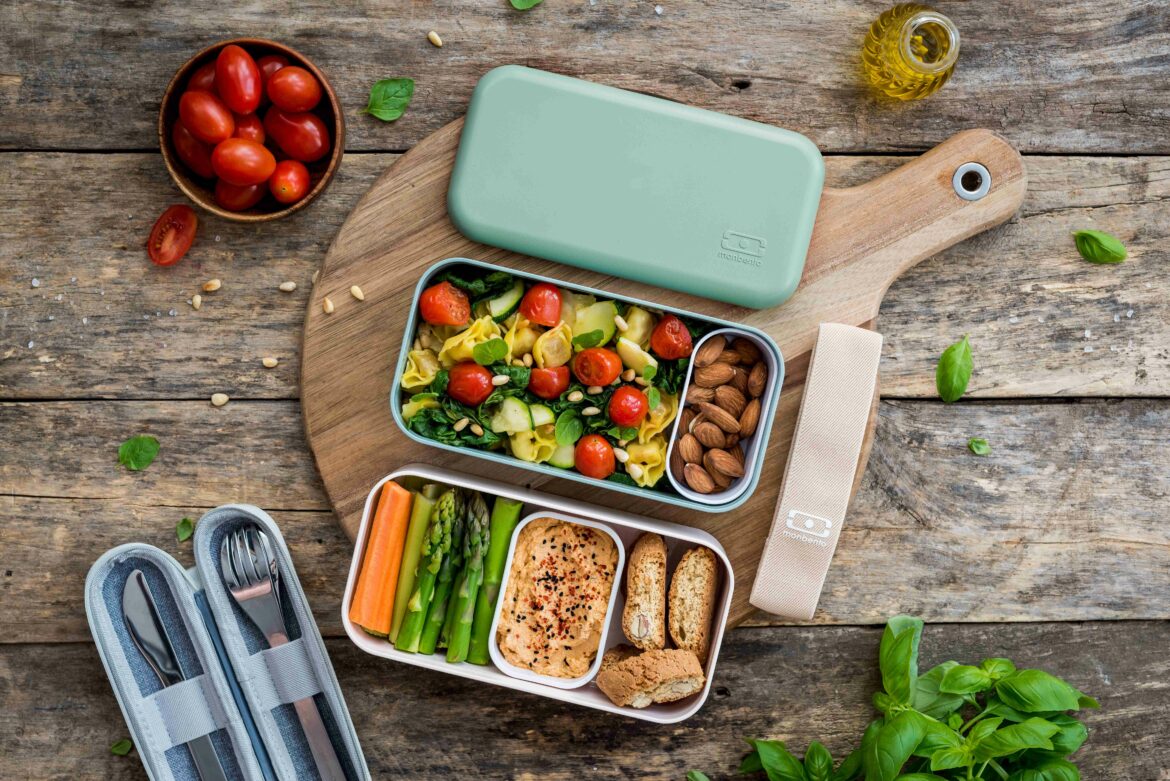 For some of us, summer vacation is just beginning but for others, it's already time to go back to the office! After indulging yourself on your vacation spot, it's time to resume your good habits with your lunch set that will follow you everywhere. Let's discover some tips to make the best of this return to the office!
#1 – A lunch set based on your habits!
To enjoy lunch at work with the same level of comfort as at home, it is important to have everything to transport and enjoy your meal on the go. What is the best lunch box? The one that fits your habits!
Thanks to the MB Original bento box, you can carry a full meal adapted to your energy needs and perfectly compartmentalized in its two 500 ml (16.9 floz) tiers.
If you prefer mixed salads, sandwiches or generous dishes, the MB Square lunch box with its total capacity of 1.7 L (57 floz) spread over two tiers will be perfect!
Dishwasher, microwave, and refrigerator safe, and guaranteed 100% airtight thanks to the seals on their lids, these two bento boxes for work will make your daily life easier!
Because of the health crisis we've been living with for the past few months, microwaves and fridges are sometimes not available at the office. But that doesn't mean eating warm or cold is impossible! Thanks to the MB Element insulated lunch box and its 550 ml (18.6 floz) capacity, you can enjoy a full meal maintained at temperature for up to 10 hours*. And to enjoy a fresh compote or a tasty starter, the MB Capsule small insulated lunch box will be the perfect partner!
A lunch set would not be complete without a reusable bottle (the MB Positive M that will fit in all your bags or the MB Steel that will keep your drinks warm or cold for up to 12 hours*), a reusable cutlery set (the MB Slim Nest and its textile case or the MB Slim Box that fits under the top lids of the MB Original and MB Square bento boxes), and a lunch bag to carry everything to the office (the MB Pochette, available in 2 sizes, or the MB Cocoon, perfectly adapted to the MB Original). What makes the difference? The accessories to bring even more flavors to your bento box recipes for work: the MB Extra to compartmentalize your MB Original, the MB Temple to carry seasonings and sauces or the MB I-cy to keep your lunch fresh in the MB Original.
*depending on the content and conditions of use
#2 – Let's get organized!
Bringing your lunch to work every day has many advantages! Not only does it help you save money by avoiding buying lunch every day at the nearby supermarket or bakery, but it also allows you to control what you eat by preparing your own meals. Packing your lunch box also helps you save time during lunch break. So how do I pack a lunch box for work? You just need a little bit of organization!
When you prepare your dinner, make sure you cook one extra portion for your bento box the next day. To avoid feeling tired of eating the same things, you can for example vary the side dishes: some stuffed mushrooms served with gnocchi in the evening can be served with a small salad the next day. You can also use one ingredient in different ways: a chicken breast can be cooked in a risotto in the evening and sautéed with mini vegetable skewers for your bento box for work the next day.
If you don't have time to cook in the evening for the next day, discover batch cooking or meal prep! Thanks to these two methods, you can prepare your meals for the whole week during weekends (a fun activity to share with your family, that you can discover on our blog !
Lunch boxes are also very helpful to adopt zero-waste habits. So, if you go to the restaurant in the evening, don't forget your bento box to bring the leftovers back home and be able to reheat them at the office the next day (that's also a good way to talk about your favorite restaurant with your colleagues!)
#3 – Let's eat healthy but tasty!
To fill your favorite bento box, choose healthy and seasonal ingredients, and tasty bento box lunch ideas for work!
So, what should adults pack for lunch? It's very simple! To stay full of energy until dinner, you have to create a balanced meal: one portion of proteins (chicken, egg, legumes …), some fruit and vegetables (raw, roasted or even sautéed), starches (wholewheat bread, rice, potatoes …) and a dairy product (cottage cheese, soy yogurt, almond milk …). To bring every day new flavors to your lunch at the office and surprise your taste buds, remember to try new seasonings: smoked paprika, some freshly ground Timut pepper, lemon or basil olive oil or even some chopped mint leaves and voilà!
Still looking for recipe ideas to put in your lunch box instead of a sandwich? You should go and check our blog: each month, we post several recipes for bento box. Discover for example our recipe ideas for work in the MB Square or in the MB Element: Trying new recipes to bring to work: your new favorite challenge?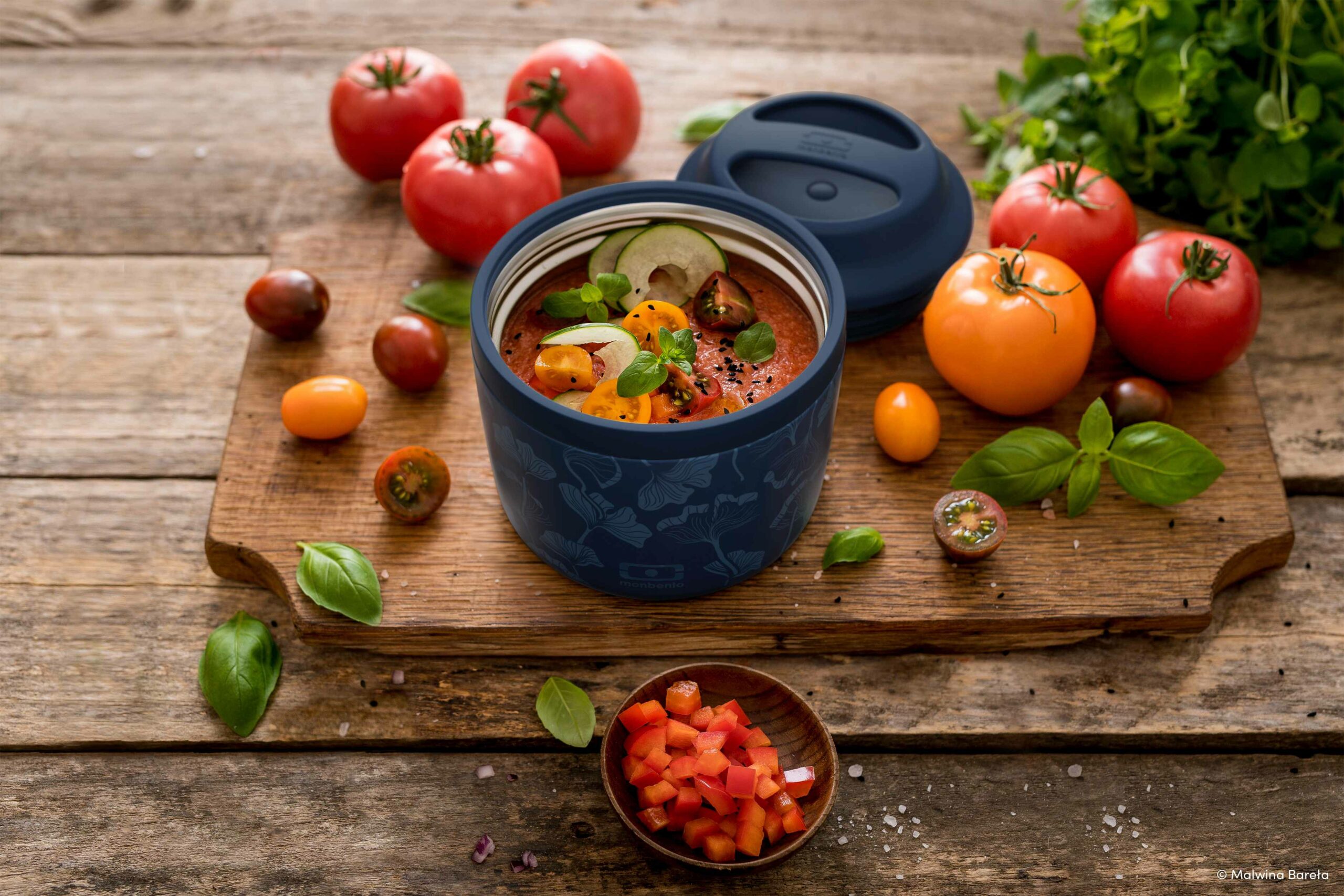 Have a delicious return to the office!