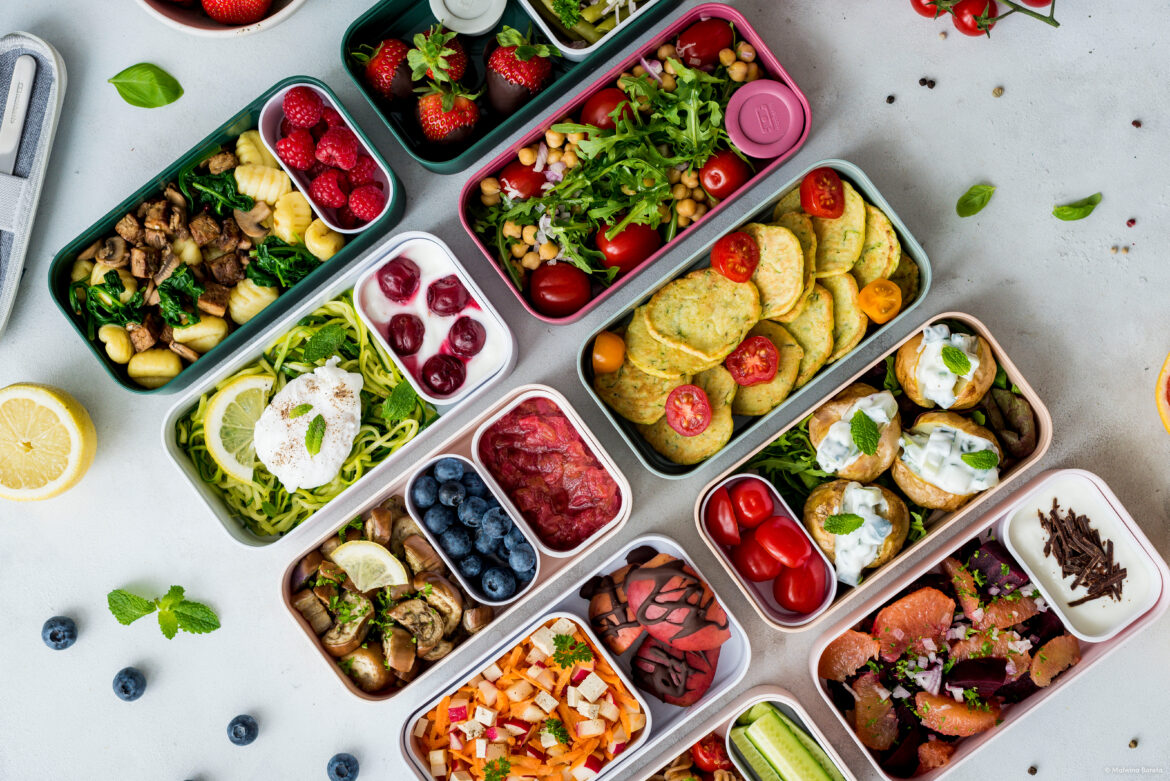 Preparing your lunch in the evening for the next day can, day after day, become a tortuous experience. Sports sessions, children's homework, time out with friends, the latest episode of our favorite series … Our evening schedules are already overbooked! So to give you a helping hand, we have a little trick to suggest: meal prep!
What is "meal prep"?
This miracle solution comes straight from the United States. The concept is simple: defining a weekly menu or meal plans and preparing all the lunch boxes in advance.
Cook two or three types of vegetables, starches and proteins, add some seasonal fruit, a yogurt or a piece of homemade cake for dessert and divide everything into your bento boxes. And, that's it! Just need to open the fridge and place your balanced meal in your bag before leaving home. Easy, right?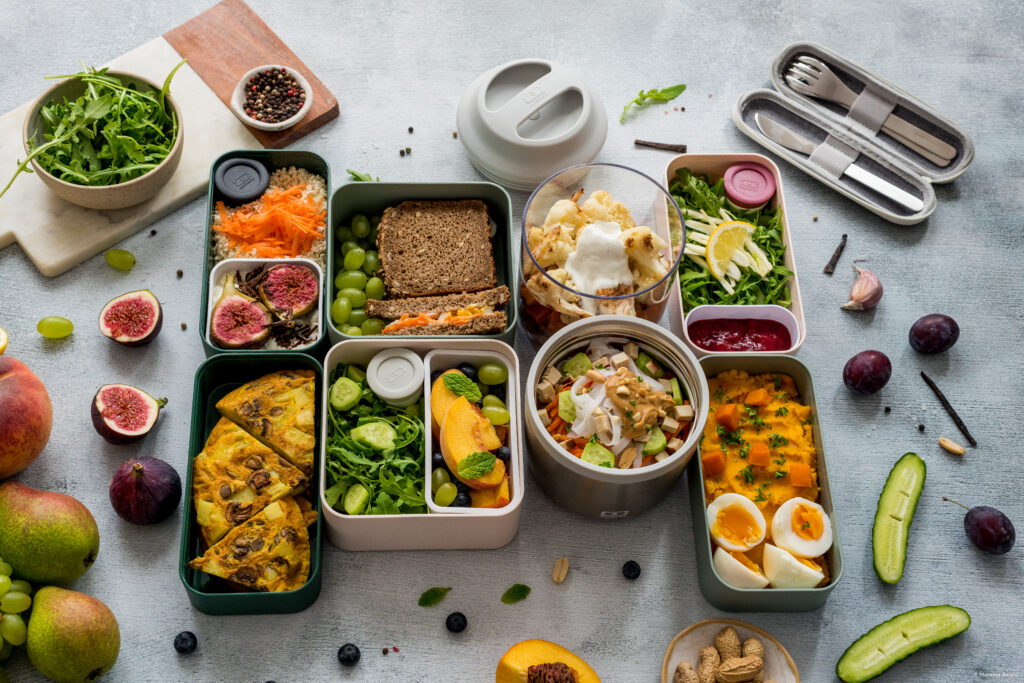 What is the purpose of meal planning?
As you have perfectly understood, preparing meals ahead of time makes our daily life easier and helps save precious time, whether you are alone or with your family. But that's not all! By anticipating our lunch ideas for work and the whole week, not only do we tend to eat more varied and balanced meals, but we also save money as we only buy what we need. Thus, our budget is controlled and waste is avoided! What more could we ask for?
How to meal prep for the week? 
1)
Check what's left in your kitchen pantry and fridge
Are the tomatoes from your garden starting to go soft? Then it's time to use them! Turn them into a delicious tomato-basil sauce (perfect to go with konjac noodles! Don't know this ingredient yet? Discover it here!) or into a tasty ratatouille, for example. You can also cut them into small cubes and season them to enhance toasted bread (bruschetta to go? Yes please!).
2)
Prepare your healthy meal plans
It's time to answer the question "What should I have for lunch and dinner?" !
To make sure you won't forget anything on your shopping list, anticipate all your meal prep recipes for the week. And don't forget to include the ingredients hidden in your kitchen pantry! The whole family can join at the grocery store: some will take care of fresh ingredients, others of fruit and vegetables, while others will head to the dry food section.
Looking for inspiration for healthy meal prep ideas? No worries! First of all, keep it simple! Base your meal prep recipes on ingredients and tastes that you like, and that you will enjoy eating several times a week. However, if you need a little help, monbento is there for you! Discover all our meal prep recipe ideas!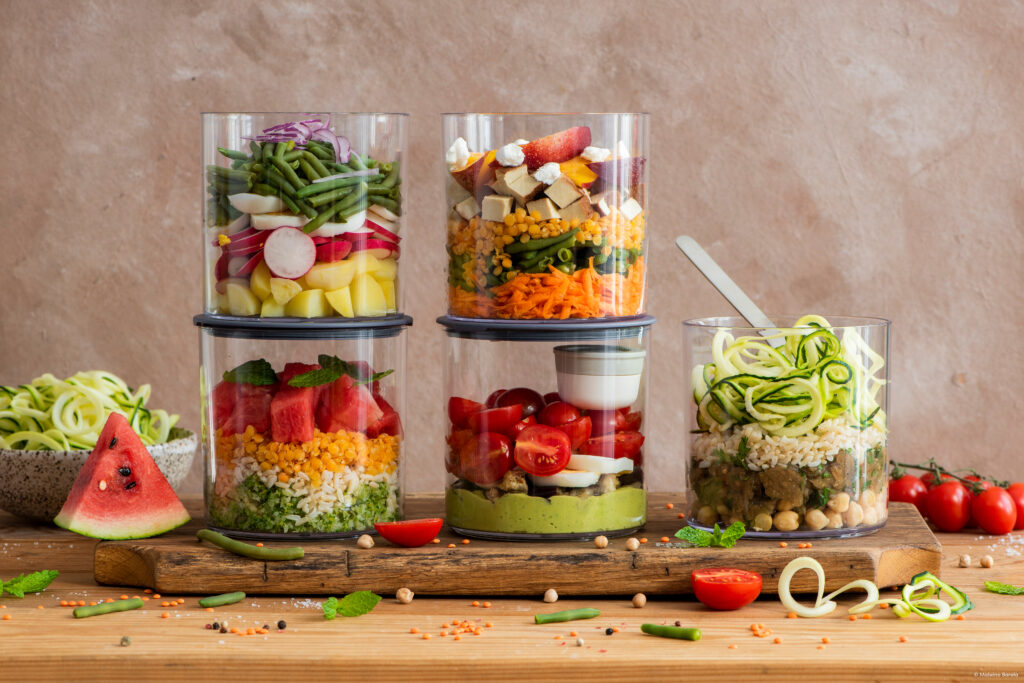 3)
Prepare the ingredients
Once you have all the ingredients, it's time to start cooking! First, cut and cook your ingredients: starches (quinoa, rice, potatoes …) or legumes (lentils, beans …), vegetables (bell peppers, spinach, carrots …) and proteins (chicken, hard-boiled eggs, seitan …). To save time, cook at the same time the ingredients that have the same cooking time!
Then, to preserve your meal prep, place the meals that will be eaten at the beginning of the week in the refrigerator, and the rest in the freezer. Just need to defrost the ingredients when you need them and adjust the preparations (mash the sweet potatoes, for example). Then pack everything in your lunch box, and let the adventure begin!
4) Don't forget seasonings!
To avoid getting tired of eating the same ingredients during the week, make sure you use various spices and little extras! Top your salad with a homemade dressing, prepared in advance and placed in the MB Temple sauce container. Try new herbs: oregano, thyme, rosemary to spice up your roasted vegetables. Lastly, add a mix of your favorite seeds or a little grated cheese on top!
Another interesting challenge is to add special themes to your meal prep sessions! A vegetarian meal prep, a meal prep full of healthy meals for weight loss, a meal prep week featuring Italian or Indian flavors … In the end, there is no limit to meal prep!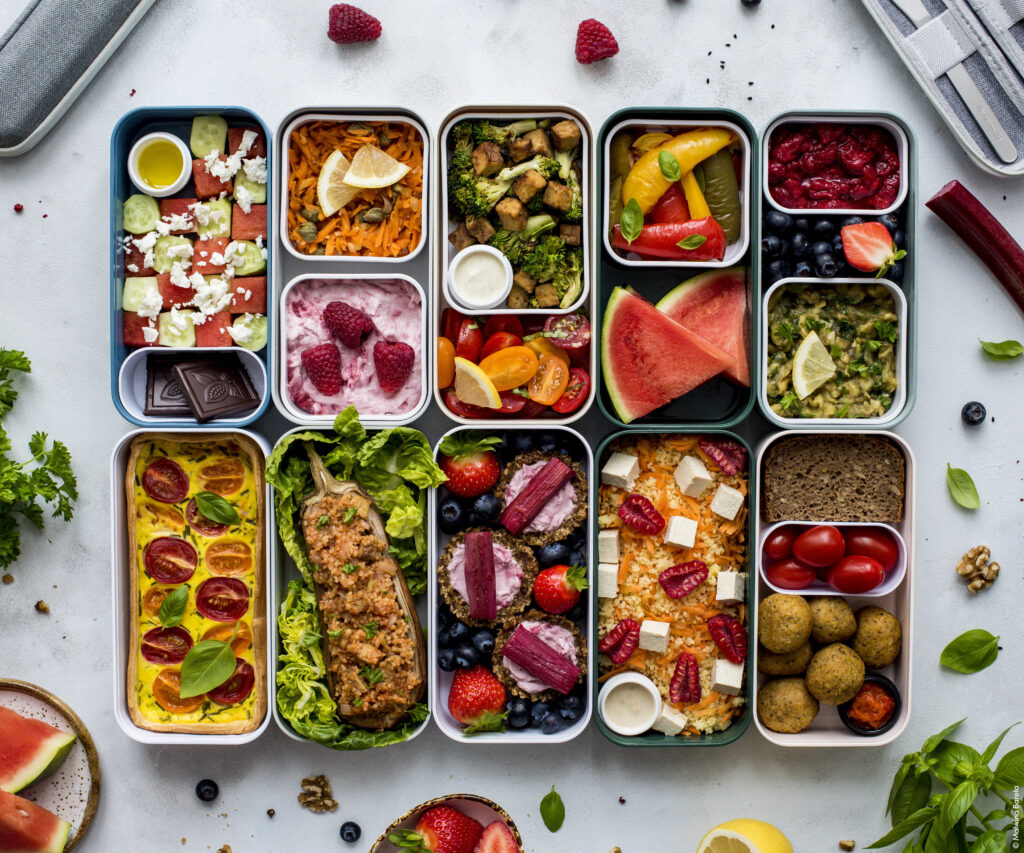 5) What container should I use for meal prep?
To help you meal plan, monbento offers a wide choice of lunch boxes that can be used in the refrigerator, freezer and microwave!
For those who like to separate the starter, main course and dessert, you can count on the MB Original 1L (34 floz) bento box, made in France. If you want to share your meal prep or prefer generous portions, then the MB Square will be your best ally! Indeed, it includes two airtight compartments of 850 ml (29 floz) each.
The MB Jar transparent bowl will be ideal for your layered salads or colorful soups. The MB Sense metal bento box will even allow you to bake your meal directly in the oven, and to reheat it in the microwave at the office! And if you want to keep your fridge well organized, we recommend the MB Gourmet lunch box. It is available in two sizes (850 ml / 29 floz or 1.1 L / 37.2 floz) and its container and/or lid are transparent. No need to open the box to see what's inside!
Discover our meal prep ideas on our blog, and share with us on social media your most delicious meal prep! 🍱