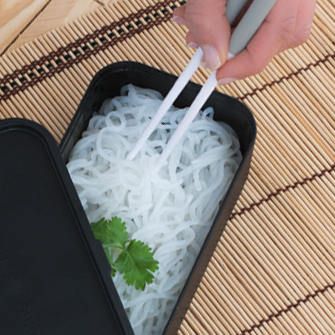 You've probably heard about konjac, right? This root vegetable has been extremely popular in our plates the last few years, as it has detox properties and an appetite-suppressant effect.
At monbento, as food lovers and adventurers of taste, we have tried these "magic noodles"! Discover the result of our test and our opinion about konjac!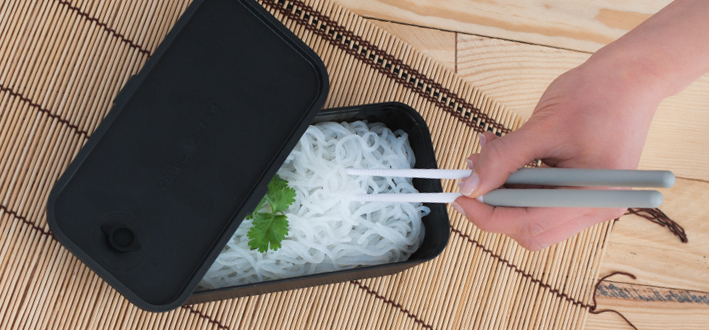 What is konjac?
To make it short, konjac is a plant (also called Amorphophallus konjac) originated from East Asia and particularly grown in Japan and Vietnam. It's been known for more than 2000 years: it was originally used to relieve heatburn, digestive disorders and even cough. Today, konjac is mostly known for its appetite-suppressant effect. The starchy root is dried and ground into a fine powder. This powder can then be placed in capsules for food supplement, or used to make noodles, rice or even a kind of jiggly cake (Konnyaku).
Are konjac noodles healthy?
Konjac has a lot of benefits, including:
Reducing the lipid and sugar levels in blood
Acting as a natural

appetite suppressant

. Indeed, konjac is rich in glucomannan, a fiber that can absorb up to 100 times its volume in water! Once absorbed, konjac will swell with water and stomach will feel full faster.
Eliminating toxins thus having a detox effect for our body
Being really rich in fibers (2 to 3g for 100g)
Having few calories (less than 10kcal for 100g, which means 90% less than pasta)
Helping

reduce fatigue and contributing to the proper functioning of the immune system,

being rich in B6 vitamin.
Does konjac help lose weight?
As we said earlier, konjac is low in calories and swells in contact with water, which allows you to feel full more quickly and to avoid feeling hungry before several hours. Konjac pasta is therefore a very good alternative to our legendary pesto or carbonara pasta from time to time!
However, we are sorry to tell you that konjac is not the miracle solution we have all been waiting for to lose weight overnight! It must be integrated into a varied diet adapted to your daily needs, as well as regular physical activity. Talk to your doctor or dietician to see how to add konjac into your diet! Be careful not to overuse this healthy alternative to starchy foods, in order to avoid disturbing your digestive system. Beware also of children's smaller stomachs, prefer traditional rice or vegetable pasta for them.
How to cook konjac noodles?
First of all: where to buy konjac noodles? Nowadays, you can easily find shirataki noodles, pasta (called kishimen) or even rice made of konjac in supermarkets, sometimes in the international sections. You can also find them in Asian grocery markets or in organic stores.
The first step in preparing konjac rice or pasta is to rinse it well. You may be surprised by a striking ionide smell, but we promise you won't taste it when you eat!
Another advantage of konjac-based ingredients? They don't need long to be cooked! Between 2 to 5 minutes in a pot of boiling water is enough to cook konjac noodles or rice (convenient on days when you are short of time)!
Konjac has a neutral taste, and can sometimes have a bit of a sticky texture. That's why we advise you to add some sauce, spices, or even some vegetables to your dish. We have tested several combinations, and here are our …
Best konjac recipes:
Konjac noodles, zucchini, chicken strips and coconut milk/curry sauce.
Stuffed vegetables (tomatoes, zucchini, butternut squash, eggplant …) and konjac rice.
Cantonese konjac rice.
Shirataki noodles sautéed with soy sauce, marinated tofu, snow peas, carrots and bean sprouts, sprinkled with roasted sesame seeds.
Ramen made with konjac noodles.
Risotto with konjac rice, porcini mushrooms and parmesan cheese.
The icing on the cake? You can even use konjac in your desserts to make them smoother and help your body burn sugar and fat!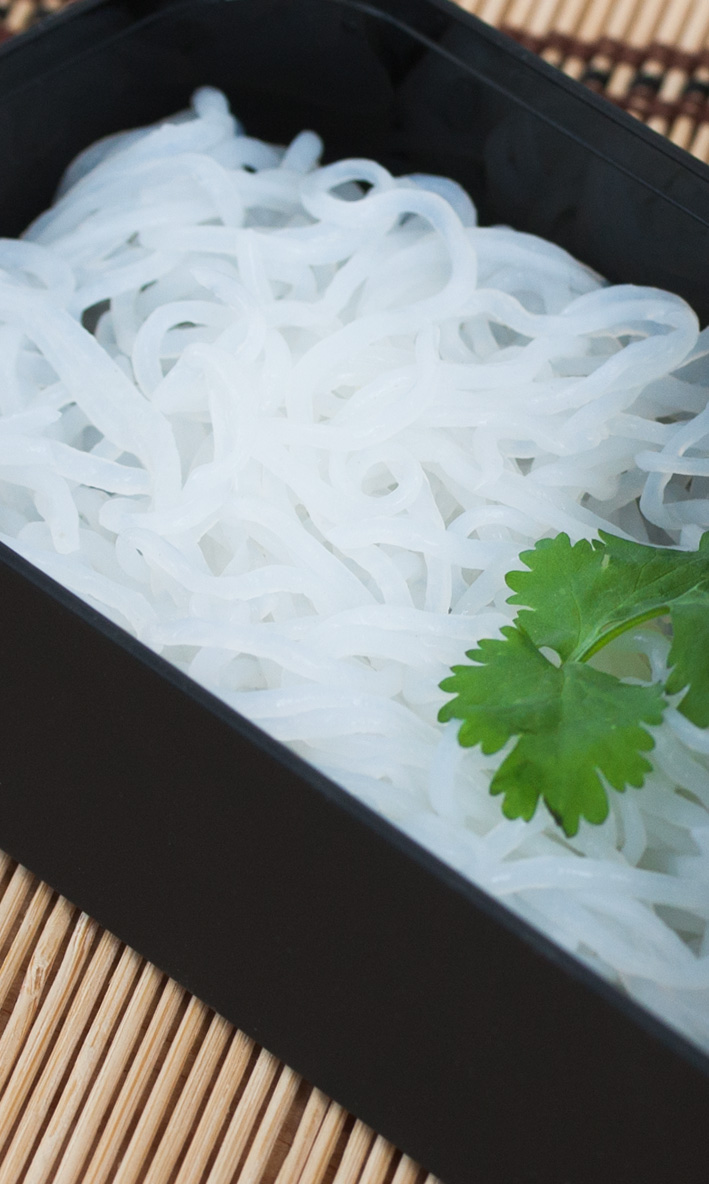 As you can see, konjac is a good friend! It's an interesting alternative to the starchy foods we eat everyday. But like all the good things, you need to consume it with moderation and use it in tasty recipes to make the best of this unique ingredient!
Konjac follows you everywhere in your bento box! Try it and let us know what you think 😉