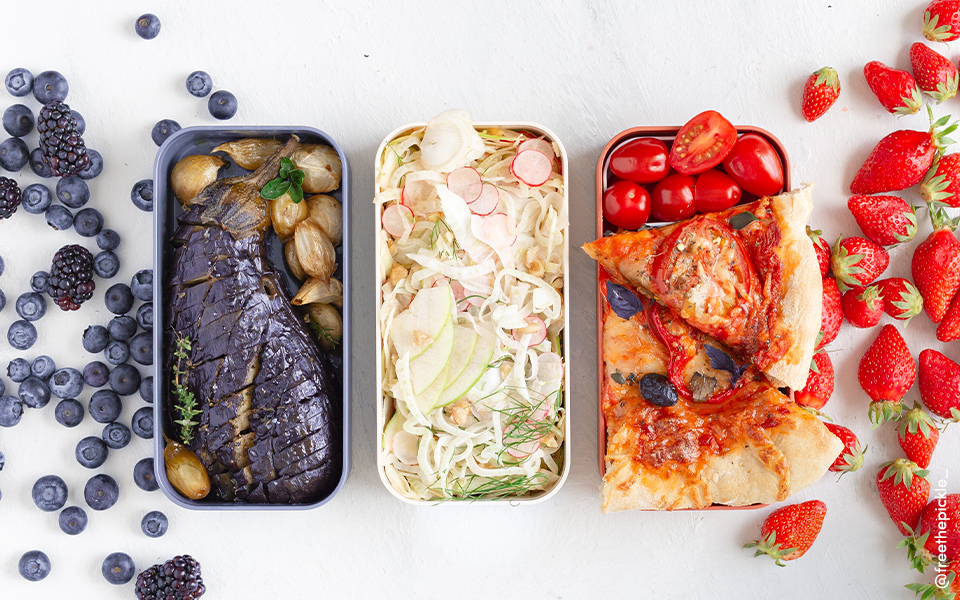 Ingredients
For the pizza:
1 roll of pizza dough
110 g of pizza tomato sauce
½ tomato, sliced
½ red bell pepper, sliced
130 g of Mozzarella cheese, grated
6 black olives
A few fresh basil leaves
For the eggplant:
1 eggplant
12 garlic cloves
2 tbsp of olive oil
1 tbsp of vinegar
1 tsp of oregano
½ tsp of thyme
Salt
Pepper
For the fennel salad:
1 large fennel bulb
1 Granny Smith apple
7 radishes
1 handful of crushed walnuts
A few sprigs of dill, chopped
The juice of 1 lemon
1 tbsp of olive oil
1 tsp of honey
Salt
Pepper
Instructions
For the pizza:
Preheat the oven to 250°C.
If you have a pizza stone, put it in the oven.
Spread the pizza dough on a baking sheet or pizza peel.
Spread the tomato sauce, then add the tomato and bell pepper slices.
Sprinkle with grated Mozzarella and olives.
When the oven is hot, bake for about 10 minutes (time to be adjusted according to the oven).
At the end of the cooking time, sprinkle with basil leaves.
For the eggplant:
Using a sharp knife, score the eggplant with slashes, without completely cutting through it.
Place it in an ovenproof dish with a lid (clay or cast-iron casserole dish, for example), along with 11 unpeeled garlic cloves.
Peel and press the last garlic clove.
In a small bowl, combine the pressed garlic, oil, vinegar, herbs, salt and pepper.
Pour the mixture over the eggplant, making sure it goes into the cuts.
Close the dish and bake for 1 hour.
Enjoy on its own or with rice, mashed or not.
For the fennel salad:
Using a mandolin or a sharp knife, slice the fennel into thin strips.
Cut the apple in 4, remove the seeds and slice it into thin strips.
Slice the radishes with a mandolin.
In a salad bowl, combine the fennel, apple, radishes, crushed walnuts and chopped dill.
In a small bowl, mix the lemon juice, honey, oil, salt and pepper.
Place each item in a compartment of the MB Original bento box for one or more meals, and enjoy the meal with fresh seasonal fruit.