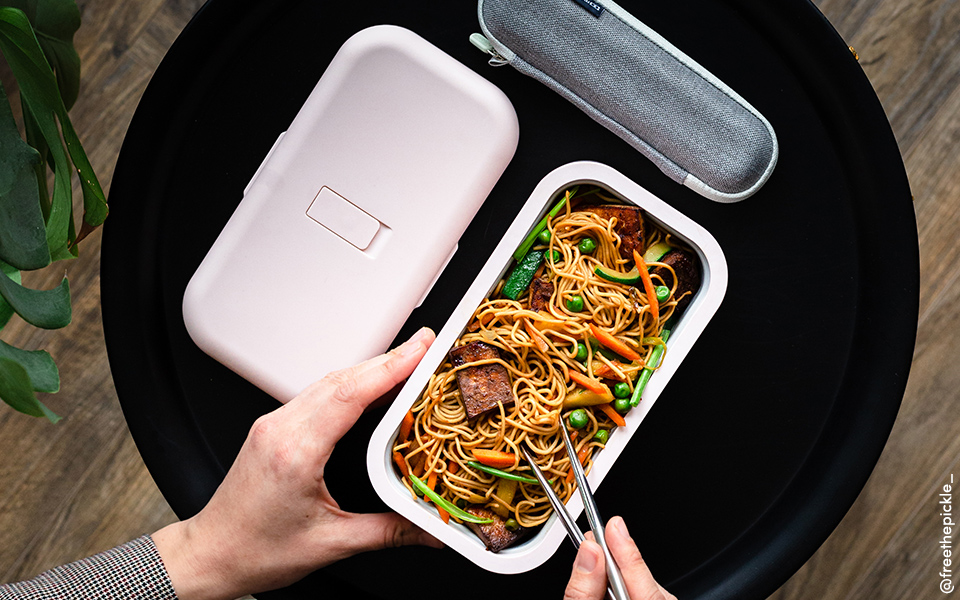 Ingredients
For the Indonesian Kecap Manis sauce:
240 ml of tamari soy sauce
90 g of palm blossom sugar (or whole sugar)
2 star aniseeds
10 g of fresh ginger, peeled and cut into small pieces
4 garlic cloves, cut into small pieces
½ tsp of black pepper
For the marinated tofu:
1 block of extra firm tofu (250 g)
2 tbsp of tamari soy sauce
2 tbsp of sesame oil
1 garlic clove, pressed
3 tbsp of kecap manis (recipe above)
For the fried noodles:
250 g of wheat noodles (or rice noodles for a gluten-free version)
2 tbsp of sunflower oil
2 shallots, minced
2 garlic cloves, pressed
1 carrot, cut into julienne strips
1 zucchini, cut into sticks
80 g of peas
100 g of Chinese cabbage, chopped
3 spring onions, chopped
Instructions
For the Indonesian Kecap Manis sauce:
In a small saucepan, combine all the ingredients.
Bring to a boil, then immediately lower the heat and simmer for about 15 minutes.
Remove from heat and set aside. The sauce will thicken slightly as it cools.
For the marinated tofu :
Remove the tofu from its packaging and wrap it in a clean tea towel.
Place a heavy weight (such as a cutting board and a pan) on top of it to squeeze out the water so that it absorbs the marinade and is firmer and more flavorful. Leave it like this for at least 10 minutes.
In a dish, prepare the marinade by mixing the soy sauce, sesame oil, garlic and kecap manis.
Cut the tofu into strips, dip them in the marinade and let them rest.
Heat a wok over medium-high heat.
Pour in the tofu and marinade and fry for 7 to 8 minutes. Turn the tofu strips halfway through cooking. Set aside.
For the fried noodles:
Cook the noodles according to package instructions.
Set aside in a large volume of cold water to stop cooking and prevent them from sticking.
In a wok, heat the sunflower oil over medium-high heat.
Sauté the garlic and shallots for 2 to 3 minutes.
Add the carrots and zucchini and sauté for 4 to 5 minutes, stirring regularly.
Add the cabbage, peas and spring onions and sauté for 2 to 3 minutes.
Drain the noodles and pour them into the wok, add 6 tablespoons of kecap manis sauce (or more according to taste) and the tofu. Mix and let cook for 3 to 4 minutes.
Natacha and Daniela's tip: depending on your taste, you can add a little bit of chili pepper at the end of the preparation!
Place the dish in the MB Warmer bento box and reheat it on program 1 (15 minutes) before eating.