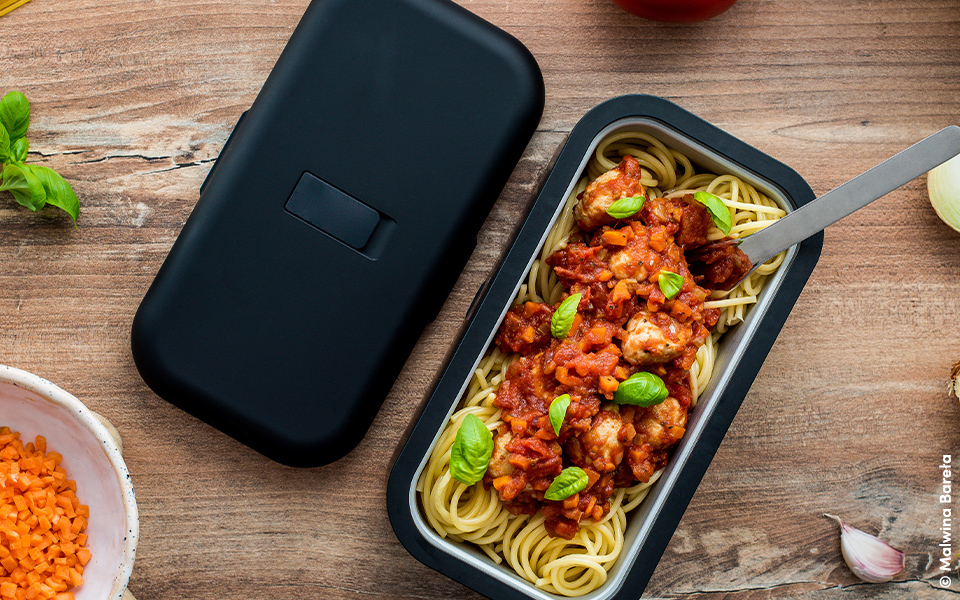 Ingredients
For the meatballs:
300 g of ground chicken breast
1 egg yolk
1 garlic clove, minced
½ tsp of sweet chili powder
1 tbsp of breadcrumbs
Salt
Pepper
For the tomato sauce:
1 small onion
1 celery stalk
1 small carrot
200 g of cooked and chopped tomatoes
½ tsp of dried oregano
½ tsp of dried basil
1 tbsp of olive oil
Salt
Pepper
Some fresh basil leaves
Instructions
For the meatballs:
In a large bowl, combine the chicken breast, egg yolk, garlic clove, chili and breadcrumbs and season to taste.
Form 10 evenly sized meatballs.
For the tomato sauce:
Finely chop the onion, celery and the carrot.
In a frying pan, heat a drizzle of olive oil and sauté the vegetables for 15 minutes or until tender.
Add the meatballs and cook for 10 minutes with vegetables or until evenly browned, stirring regularly.
Add the tomatoes, herbs and adjust seasoning if necessary. Simmer for 10 minutes, stirring regularly.
In a large saucepan, bring salted water to a boil and cook the pasta al dente according to package instructions.
Pour the pasta into the pan with the  tomato sauce and meatballs and mix.
Place a portion of pasta in the MB Warmer heating bento box and reheat on program 3 (35 minutes) before eating.