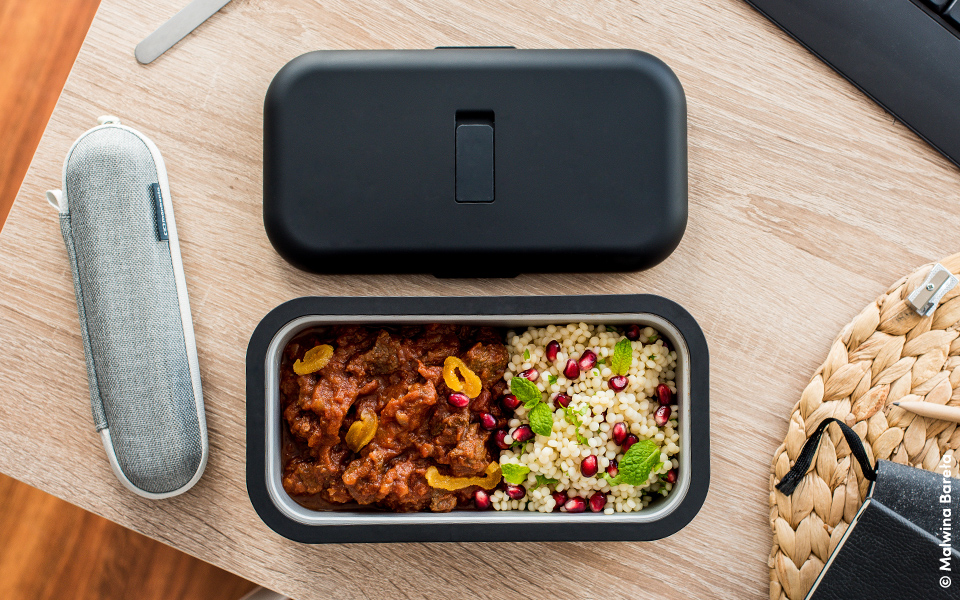 Ingredients
For the couscous:
50 g of pearl couscous
3 tbsp of pomegranate seeds
1 tbsp of chopped herbs (e.g. mint, parsley, cilantro leaves)
Lemon juice
Salt
For the tagine:
100 g of beef, cubed
1 small onion, chopped
1 garlic clove, minced
200 g of tomatoes, cooked and chopped
100–200 ml of beef broth
1 tsp of harissa paste with rose petals
1/3 tsp of ground cumin
1/4 tsp of ground cilantro
1 pinch of cinnamon
2 tbsp of olives, pitted
20 g of dried apricots, sliced
Salt
Pepper
Olive oil
Instructions
For the couscous:
Cook the pearl couscous according to package instructions, then place it in a bowl.
Add the pomegranate seeds, herbs, lemon juice and salt, mix and set aside.
For the tagine:
In a tagine, heat a drizzle of olive oil. Add the beef and brown it evenly.
Add the garlic clove and the onion and sauté with the meat for 4 minutes or until tender.
Add the tomatoes with their juice and 100 ml of beef broth, then add the harissa paste and spices. Cover and cook for two hours or until the meat is very tender. Add more broth during cooking if necessary.
At the end of cooking time, add the olives and apricots, season to taste and cook for another 15 minutes.
Place the tagine and the couscous in the MB Warmer heating lunch box and reheat on program 2 (25 minutes) before eating.