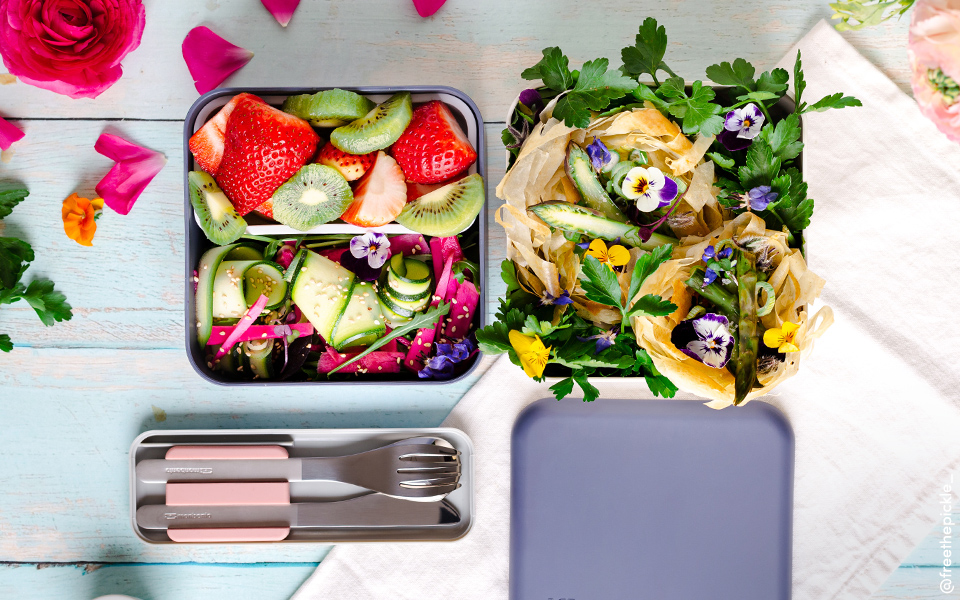 Ingredients
6 green asparagus
100 g of Ricotta cheese
70 g of Parmesan cheese
2 eggs
5 filo pastry sheets
olive oil
1 handful of edible flowers
1 handful of sprouts
Coarse salt
Fine sea salt
Instructions
In a saucepan, boil a large volume of water with a pinch of coarse salt.
Cut the hard stems of the asparagus (about 4 to 5 cm).
Cut the head of the asparagus (about 4 cm), then cut slice the remaining stem.
In a steamer, cook the slices for 10 minutes and add the heads halfway through the cooking time (they should not cook for more than 5 minutes), then remove from the heat.
Take the 5 filo pastry sheets out of the fridge.
Natacha and Daniela's zero-waste tip: sealed, the package of filo pastry can be kept for a few days in the refrigerator or a few months in the freezer.
Preheat the oven to 190°C.
Using scissors, carefully cut out strips of filo pastry.
Arrange the strips in the tartlet molds to form nests and line the bottom of the molds with the remaining small pieces.
Using a brush, brush oil gently but generously over each nest.
In the bowl of a blender, blend the asparagus slices with the Ricotta cheese, Parmesan cheese and eggs. When the mixture is smooth, divide it among the 6 molds.
Bake for 16 to 17 minutes, then remove from the oven and let cool.
Fill the nests with the asparagus tips cut in 2, the flowers and sprouts, then sprinkle with a little bit of fine sea salt before placing them in the MB Square bento box.
Serve with a salad and fresh seasonal fruit.