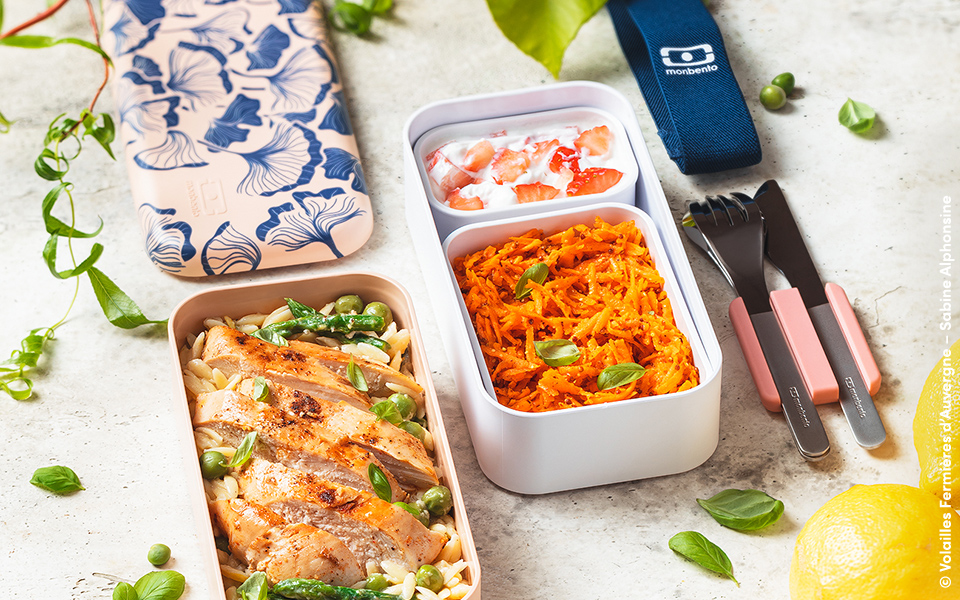 Ingredients
1 chicken breast
200 ml of homemade chicken broth (pot-au-feu style)
1 tbsp of chopped shallot
80 g of orzo pasta
5 cl of white wine
50 g of peas
6 asparagus
1 tbsp of Parmesan cheese
Zest of lemon
Basil leaves
1 tbsp of crème fraiche
1/2 tsp of smoked paprika
Olive oil
Salt
Pepper
For the carrot and mustard salad:
1 carrot, grated
1 tsp of wholegrain mustard
Salt and pepper
Olive oil
A few basil leaves
Instructions
This recipe is made in partnership with Les Volailles Fermières d'Auvergne.
Boil a pot of water.
Place the asparagus and peas into the boiling water for 5 minutes. Set aside.
Heat a drizzle of olive oil in a frying pan.
Add the chicken breast.
Season with salt and pepper and sprinkle with smoked paprika.
Cook the chicken breast.
Remove from heat and cut the breast into strips. Set aside.
In a frying pan, heat a drizzle of olive oil and brown the onion.
Add the orzo pasta and mix.
Pour in the white wine and stir until it is completely absorbed.
Pour in the broth while stirring.
Add the crème fraiche and mix.
When the risotto is cooked, remove from heat and add the peas, asparagus, lemon zest and Parmesan cheese.
Season with pepper and mix.
Place the risotto in the MB Original bento box, then the slices of chicken breast on top and sprinkle with basil leaves.
Serve the risotto with a grated carrot and wholegrain mustard salad and cottage cheese and strawberries for dessert.
Recipe and photo credits: Sabine Alphonsine - Partnership with Volailles Fermières d'Auvergne x monbento
Presented products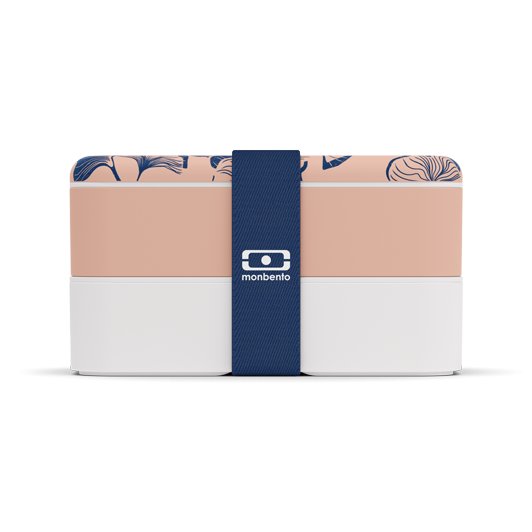 MB Original graphic Ginkgo
Buy now