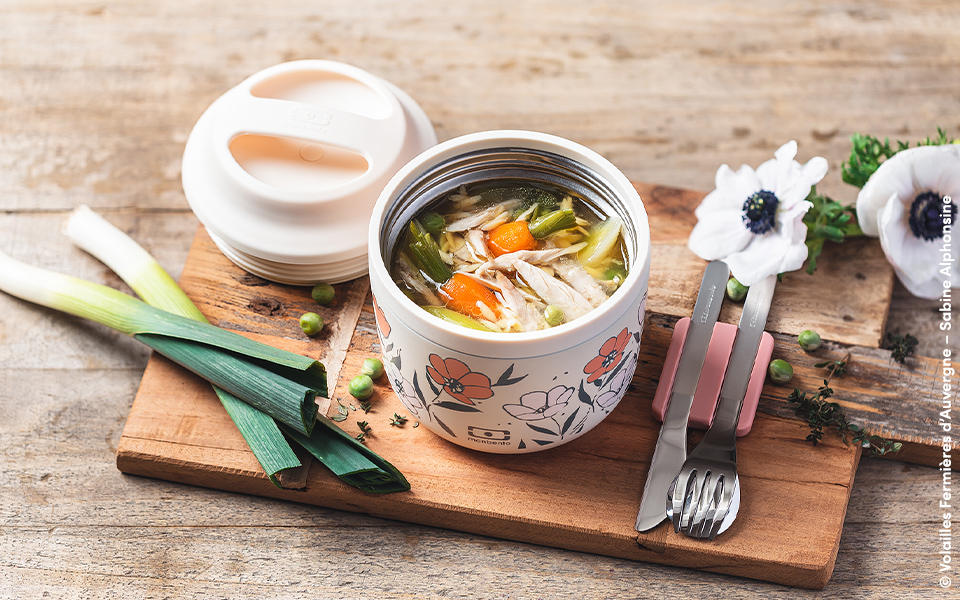 Ingredients
1 poultry carcass with wings
1 onion, quartered
1 leek (green + white parts)
1 new potato
2 carrots
50 g of peas
1 clove
3 sprigs of thyme
1 bay leaf
70 g of orzo pasta, cooked the day before
1,5 L of cold water
Instructions
This recipe is made in partnership with Volailles Fermières d'Auvergne.
Cut up the poultry to separate the breasts, legs and carcass with the wings. Set aside the breasts and legs for other recipes. Keep the carcass and wings for the broth.
Separate the white part of the leek from the green one. Cut the white part into sections. Tie the thyme and bay leaf with the green part of the leek to form a bouquet garni.
In a large pot, place the poultry carcass and wings, add the onion, clove and bouquet garni. Season with salt and pepper. Pour in the cold water. Cover and let cook for 1 hour on medium heat.
After one hour of cooking, add the vegetables: leeks in sections, carrots, peas and potato.
Cook for about 25 minutes or until the vegetables are tender.
Remove the bouquet garni, vegetables and carcass from heat and strain the broth.
Remove the cooked meat from the wings and add it to the broth.
Place the cooked orzo pasta then the vegetables from the broth in the MB Element insulated bento box.
Poor the broth on top, before adding the cooked poultry.
Sabine Alphonsine's tip: keep the remaining broth, for the risotto and pulled chicken recipes.
Recipe and photo credits: Sabine Alphonsine - Partnership with Volailles Fermières d'Auvergne x monbento
Presented products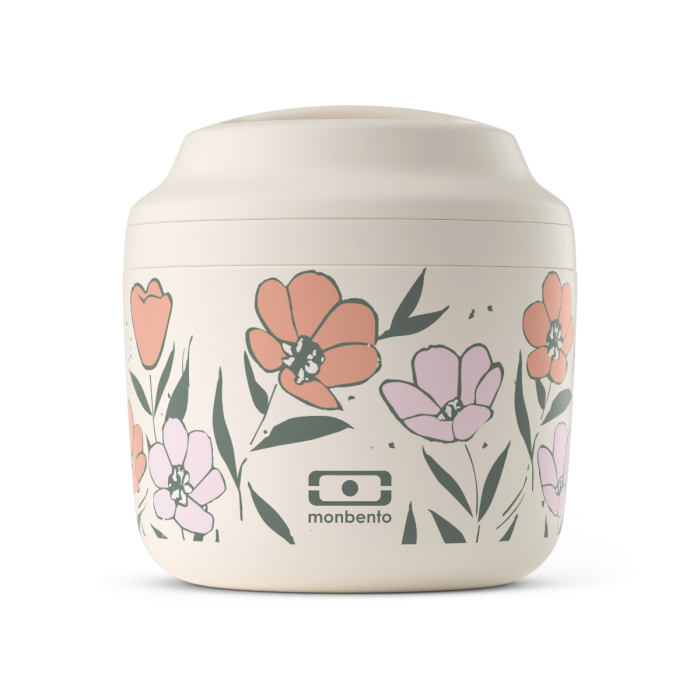 MB Element graphic Bloom
The insulated lunch box
Acheter