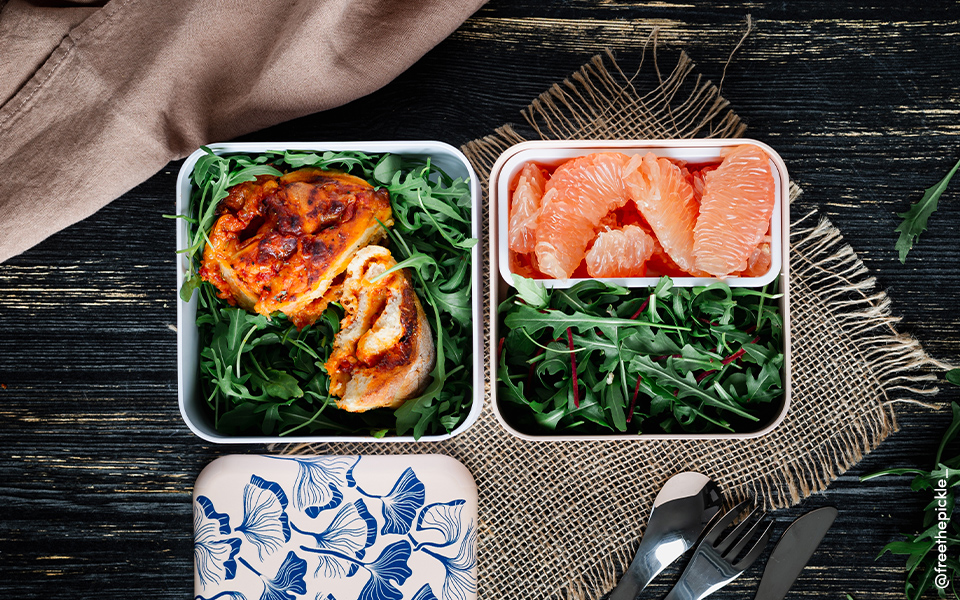 Ingredients
1 drizzle of olive oil
1 garlic clove, pressed
200 g of tomato sauce
½ tsp of sugar
½ tsp of oregano
1 pinch of thyme
Salt
Pepper
1 rectangular pizza dough (recipe below)
100 g of Mozzarella cheese, grated
20 g of Parmesan cheese, grated
20 g of Emmental cheese, grated
Instructions
In a small saucepan, heat the olive oil and sauté the garlic over medium heat for a few minutes.
Add the tomato sauce, sugar, herbs, salt and pepper. Stir, cover and simmer for 30 minutes.
Preheat the oven to 230°C.
On the kitchen counter, roll out the pizza dough with the longest side facing you. Spread the sauce over the whole dough, leaving 1 cm border on the furthest side from you.
Sprinkle the cheeses on the dough. Roll up the dough and cut the log into 9 to 12 pieces.
In an oven dish of about 25 cm x 25 cm, place the rolls next to each other.
Bake in the oven at half height for 25 to 30 minutes.
Place the pizza rolls in the MB Square bento box and enjoy with green salad and fresh fruit for dessert.  
Homemade pizza dough:
Prep time: 20 min.
Standing time: 2 h.  
Ingredients:
200 ml of warm water
10 g of sugar
1/2 packet of active dry yeast
12 g of olive oil
1/2 tsp of salt
270 g of organic wheat bread flour (T65)
Instructions:
In the bowl of a food processor or a salad bowl, pour the warm water, sugar and yeast. Mix to dilute the sugar and yeast and let stand for 10 minutes. The mixture should start to bubble, meaning that the yeast is active.
Add the olive oil.
In another bowl, mix the flour and salt.  
With a food processor:
Turn the food processor on medium-high speed (using the dough hook or flat beater paddle) and gradually pour the flour into the yeast mixture. Knead for 5 to 10 minutes.
The dough should remain sticky. It is ready when, the mixture forms a ball that rides around the bowl and becomes see-through when stretched between fingers.  
By hand:
Gradually stir the flour into the yeast mixture. Knead vigorously for at least 10 to 15 minutes, or until the dough holds its shape on its own and becomes almost see-through when stretched between fingers.
Using a spatula, place the dough in an oiled bowl. Turn it over so that the whole dough is oiled to prevent it from drying out.
Cover the bowl with a damp cloth and let it rise for at least 1 to 2 hours. At the end of the resting time, the dough should have doubled in size.
Natacha and Daniela's tip: if the dough rises too long, it may overflow. In this case, keep it in the refrigerator to slow down the rising.
At the end of the rising time, punch the dough down with your fists to remove as much air as possible.
On the kitchen counter, pour a generous layer of flour and place the dough.
Shape the dough into a ball and dust it with flour.
Using a rolling pin, roll the dough into the desired shape.