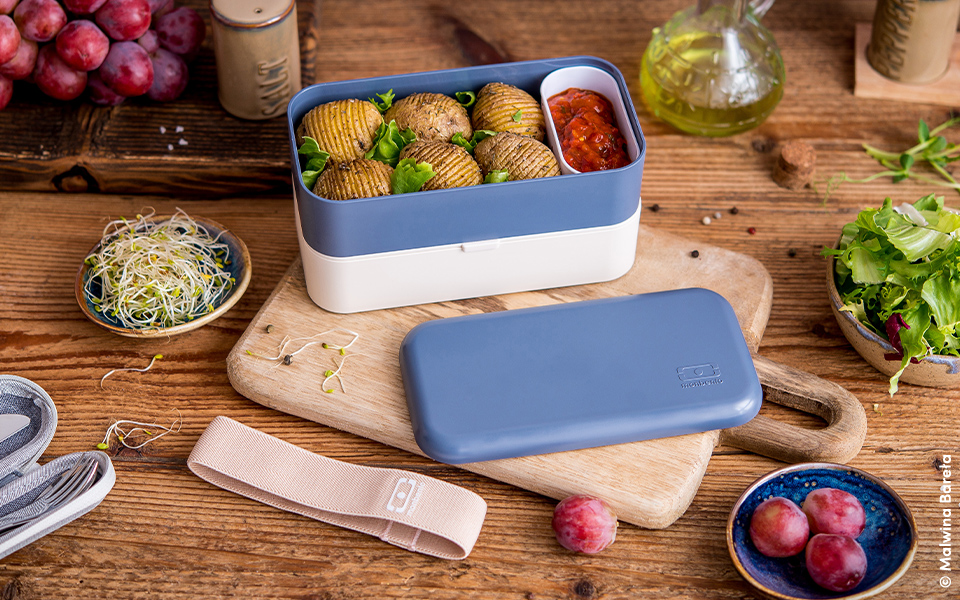 Ingredients
For the Hasselback potatoes:
300 g of small potatoes
3 tsp of olive oil
A few pinches of dried thyme
A few pinches of salt
  For the salad:
1 handful of a salad mix
50 g of carrots, grated
50 g of chickpeas, cooked
2 tsp of sprouts
For the dressing:
2 tbsp of olive oil
1 tbsp of white balsamic vinegar
salt
pepper
Instructions
For the Hasselback potatoes: Preheat the oven to 200°C. On a cutting board, place a potato  between two chopsticks or wooden spoons. Using a sharp knife, slice the potato into 2-mm slices, leaving about 0.5 cm at the bottom unsliced (the chopsticks will prevent you from slicing the potato all the way through. Repeat with the remaining potatoes. Place the sliced potatoes on a baking sheet previously covered with a baking mat. Brush them with olive oil and sprinkle with thyme and salt. Bake for 45 minutes or until tender and crisp. Place the potatoes in a container of the MB Original bento box and serve them with the sauce of your choice.   For the salad: Place the salad mix in the second container of the MB Original bento box. Add the carrots, chickpeas and the sprouts. Mix the olive oil, vinegar, salt and pepper and pour the dressing into the MB Temple sauce cup. Sprinkle over the salad before eating.