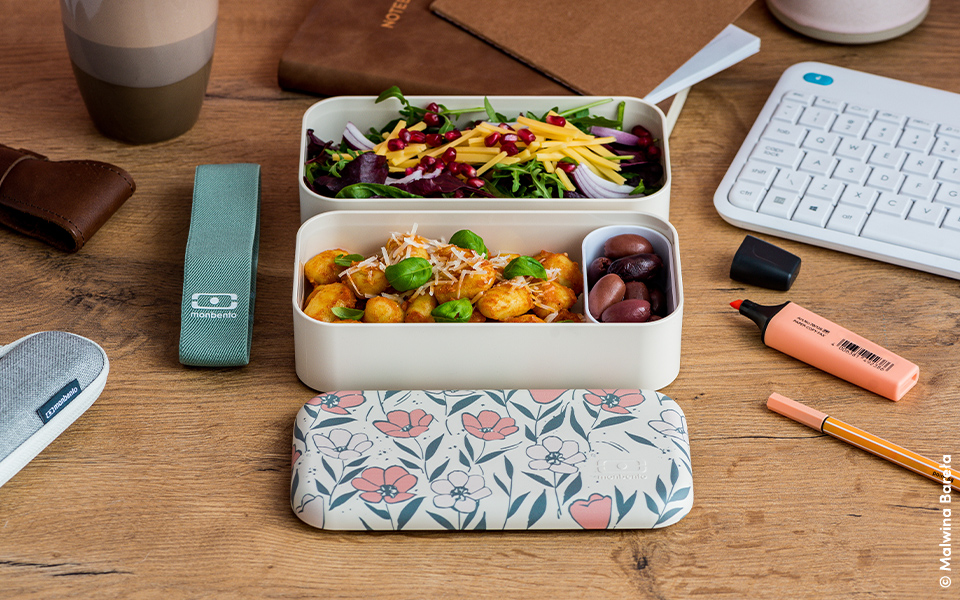 Ingredients
For the gnocchi:
500 g of floury potatoes, cooked and cooled
1 egg
A few pinches of salt
130–200 g of plain flour (depending on the texture of the potatoes)
A few basil leaves
1 tbsp of Parmesan cheese, grated
  For the red pesto sauce:
2 roasted red bell peppers, peeled
2 tbsp of cashews
2 heaped tbsp of yeast flakes
1 garlic clove, minced
2 sun-dried tomatoes
Salt
Pepper
Instructions
For the gnocchi: In a large bowl, mash the potatoes using a potato masher until obtaining a smooth consistency. In a small bowl, beat the egg and add it to the mashed potatoes. Add the flour. Gently knead the mixture by hand for 2 to 3 minutes until obtaining a soft and elastic dough. Malwina's tip: if the dough is sticky, add a little more flour. On a lightly floured kitchen counter, divide the dough into 2 equal pieces and form 2 long ropes of about 3 cm in diameter. Slice each rope into 2 to 3-cm squares. Malwina's tip: roll the gnocchi on a gnocchi board to create their emblematic ridges. In a large pot, bring salted water to a boil. Immerse half of the gnocchi and cook them for 2 to 3 minutes. Gnocchi are ready when they float to the surface of the water. Using a skimmer, remove the gnocchi from the pot. Repeat the process with the other half of gnocchi.   For the red pesto sauce: Using a blender, blend all ingredients together until obtaining a smooth sauce. In a pan, pour the sauce and cook for 3 minutes. Add the gnocchi and mix. Place the gnocchi and pesto sauce in the MB Original bento box and sprinkle with basil and Parmesan cheese. Serve with your favorite green salad.