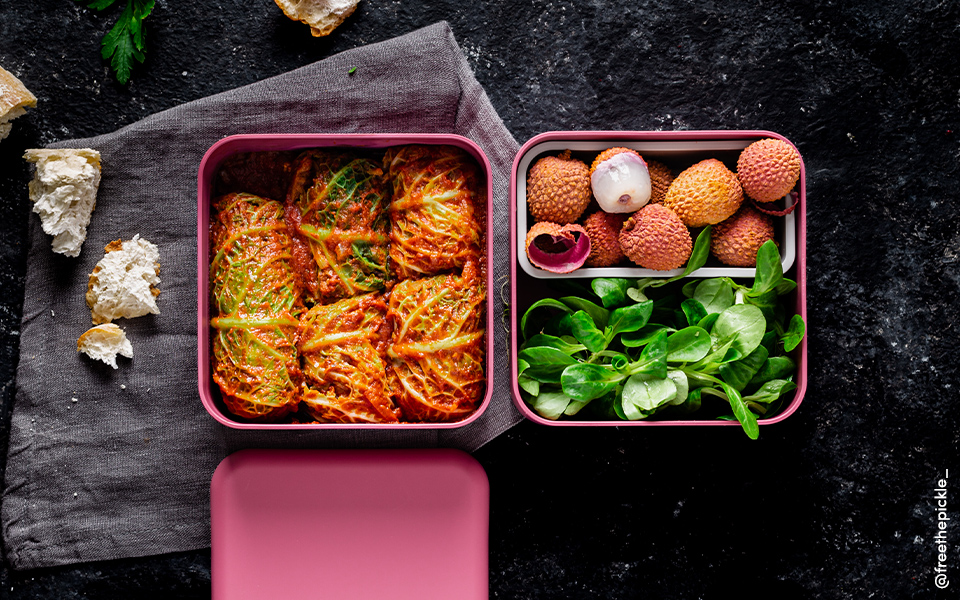 Ingredients
For the stuffed cabbage rolls:
8 green cabbage leaves
1 small carrot
1 small celery stalk
1 small yellow onion
1 tbsp of olive oil
1 bay leaf
400 g of button mushrooms
2 garlic cloves
1 tsp of paprika
1 tsp of oregano
100 ml of water
70 g of tomato paste
50 g of dry bread
2 eggs
  For the tomato sauce:
1 onion, chopped
2 tbsp of olive oil
1 bay leaf
1 garlic clove, chopped
700 ml of tomato coulis
70 g of tomato paste
100 ml of water
1 tsp of oregano
1 pinch of thyme
1 tsp of sugar
Instructions
To prepare the cabbage and stuffing: 
In a large saucepan, bring a large volume of water to a boil with a pinch of coarse salt. Cook the whole cabbage leaves for 4 minutes. Drain, lay flat and set aside. Mince the carrot, celery and onion and fry them in a pan with a drizzle of olive oil for 5 minutes. Dice the mushrooms. Add them to the pan with the chopped garlic cloves, paprika and oregano. Season with salt. Brown for 10 minutes or until the mushrooms have released all their water. Pour the water with the tomato paste. Mix well. Cut the dry bread into small pieces (the larger pieces should not be bigger than croutons) and add them to the pan. Cook for a few minutes. Turn off the heat. When the mixture has cooled, beat the eggs and add them while stirring (they should not cook).  
To prepare the tomato sauce:
In a Dutch oven or large saucepan, sauté the onion in a drizzle of olive oil for 3 to 4 minutes. Add the bay leaf and garlic and sauté for 2 minutes. Add the tomato coulis, tomato paste, water, herbs and sugar. Stir. Cover and cook over medium heat.  
To assemble the stuffed cabbage rolls:
On the kitchen counter, place a cabbage leaf with the rib facing you. Using a sharp knife, cut a V-shape out of the bottom of the leaf to remove the tough rib. Place a large tablespoon of filling in the center of the leaf. Fold it like a spring roll, starting first with the side that is the closest to you (the part with the removed rib): fold it over the stuffing, then fold the sides inward, and roll it tight until the end. Repeat this process with the other leaves. Place them in the tomato sauce and cover them with the sauce. Cover and cook for 35 minutes. Serve with green salad and fresh seasonal fruit for dessert.
Presented products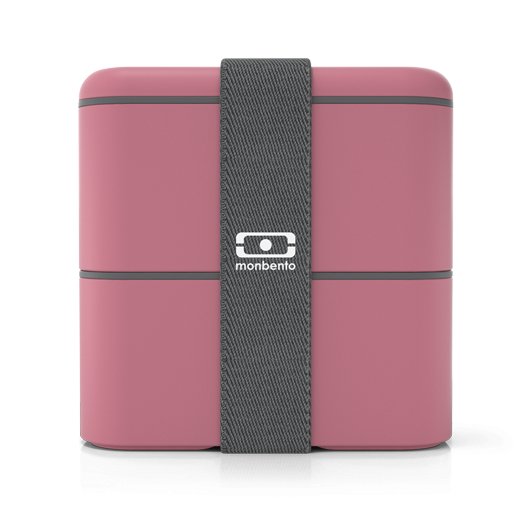 MB Square pink Blush
The bento box for big appetites
Buy now