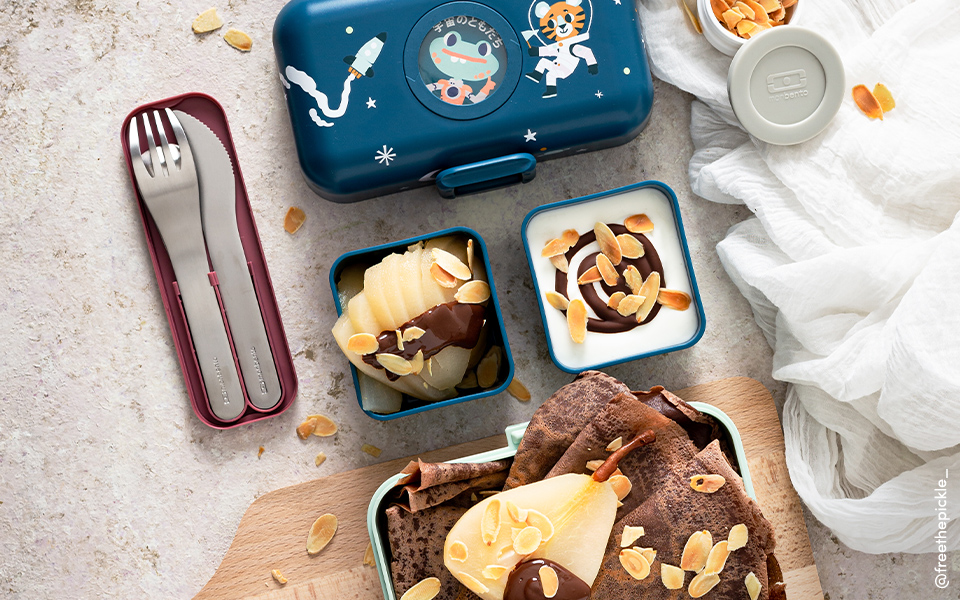 Ingredients
For the crepes:
250 g of flour
30 g of cocoa powder
20 g of sugar
3 eggs
500 ml of milk
30 g of butter, melted
  For the poached pears:
4 firm pears (Williams)
1,5 l of water
the juice and zest of 1 lemon
1 vanilla bean, scraped
225 g of sugar
  For the chocolate sauce and almonds toppings:
160 g of dark chocolate
20 g of liquid cream
10 g of butter
1 handful of slivered almonds
Instructions
For the crepes:
In a bowl, mix the flour, cocoa powder and sugar.
Add the eggs and oil and mix well.
Add the milk little by little, mixing well in between.
Add the melted butter and mix.
Cover the bowl and set aside for 1 hour at room temperature.
After this standing time, mix the batter and cook the chocolate crepes in a lightly oiled crepe pan, for about 2 minutes on each side.
Place the crepes on a plate and sprinkle some sugar between each crepe.
Natacha and Daniela's tip: to keep the crepes warm, place an upside-down plate on top of the pile of crepes.  
For the poached pears:
In a saucepan, pour the water, and add the sugar, lemon zest and juice, and vanilla seeds.
Bring to a boil before reducing heat, and simmer gently until all the sugar is dissolved.
Peel the pears, keeping the stems.
Cut a thin slice from the base of each pear and, using a paring knife or the tip of a peeler, cut around the core to remove it.
Place the pears in the hot syrup and cover with a piece of baking paper (it must cover the syrup so that the pears are submerged).
Simmer the pears in the syrup for 30 minutes, or until they are softer.
Natacha and Daniela's note: the cooking time will depend on the maturity of the pears. If they are firm, they can be cooked for up to 45 minutes. Test doneness with a knife by pricking in the thickest part of the fruit.
When the pears are cooked, let them cool in the syrup.
For the chocolate sauce and almonds toppings:
Preheat the oven to 150°C.
Spread the slivered almonds on a baking sheet previously covered with a baking mat and bake for 8 minutes. They should be lightly colored and crisp.
In a saucepan over low heat, melt the chocolate into the cream, stirring gently with a wooden spoon.
Add the butter and stir until it is completely melted.
Fold the crepes in 4 and place them in the MB Tresor bento box, and add the pears on top.
Pour the chocolate sauce on top of the pears and crepes and sprinkle with toasted almonds.
Serve with cottage cheese.