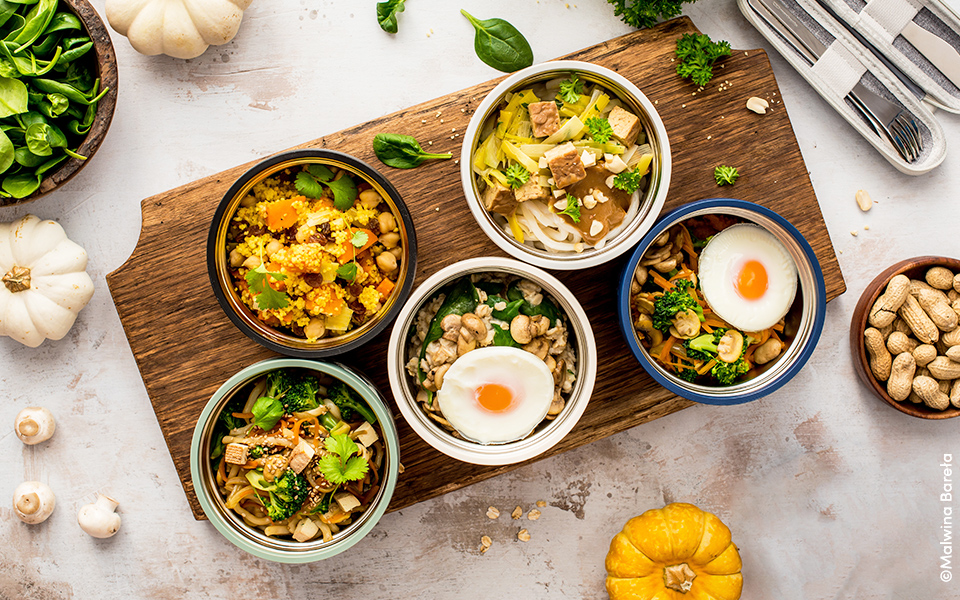 Ingredients
100 g udon noodles (2 portions)
300 g of carrot
225 g of mushrooms
200 g of broccoli
200 g of sweet potato
100 g of smoked tofu, cut into cubes
4 eggs
Ginger
Coriander
Paprika
Sesame seeds
Turmeric
Salt
3 leeks
100 g of pumpkin
30 g of wholemeal
100 g of chickpeas, cooked and rinsed
1 small onion
1 clove of garlic
olive oil
125 g of chard, washed and chopped
50 g of oatmeal
Pepper
Cumin
Parsley
100 g of tempeh
1 tbsp peanut puree
1 tbsp of salted soy sauce
Instructions
MONDAY
BENTO N°1

TUESDAY
BENTO N°2
WEDNESDAY
BENTO N°3
THURSDAY
BENTO N°4
FRIDAY
BENTO N°5
Fried noodles with vegetables and tofu (broccoli, carrots, mushrooms)
Coucous-style semolina (leeks, carrots, pumpkin) with chickpeas and dried grapes
Mushroom and swiss chard porridge with poched egg
Leek fondue with noodles and tempeh with a peanut sauce

Sweet potato purée, pan-fried vegetables (broccoli, carrots and mushrooms) and poched egg
  1. In a saucepan, heat water to cook the udon noodles.  
2. Meanwhile, peel carrots and cut into thin strips, wash mushrooms and cut in the same way, wash broccoli and cut into florets.  
3. Thinly slice the onion and fry it in a wok with some crushed garlic and 2 tablespoons of olive oil.  
4. Add the vegetables and fry them with 2 tablespoons of salted soy sauce.  
5. In a saucepan, boil water. In the meantime, peel the sweet potato and cut it into small cubes, then cook it in water until it melts.  
6. Place half of the cooked noodles in bento box n°4 and the other half in bento box n°1 and add the smoked tofu.  
7. Heat a pot of water and put the eggs as soon as the water starts to boil. Cook for 6 minutes before placing in a bowl of cold water.  
8. Once the wok of vegetables is ready, add a little ginger, ground coriander and paprika. Stir and taste to adjust seasoning if necessary.  
9. Place one half in bento box n°1 and the other half in bento box n°5.  
10. To finish bento box n°1, add a little sesame seeds and fresh coriander on top.  
11. Place in the wok a base of water with ginger, turmeric, paprika and salt. Cover and heat.  
12. Peel, clean and cut the leek, carrot and pumpkin into 2 cm pieces (all the vegetables should weigh about 250 g). Place them in the wok with some dried grapes, cover and let cook. Make sure there is always enough water left.  
13. Heat water in a kettle or a saucepan. In a bowl, put the semolina with a pinch of salt and add the boiling water then cover to let it swell. Place the semolina in bento box n°2 and add the chickpeas.  
14. Once your sweet potato is cooked, drain it and place it in a bowl to mash with a fork. Add the potato purée to bento box n°5.  
15. Mince a small onion and place it in a saucepan with 1 tablespoon of olive oil and a little garlic. Add the mushrooms and chard, and cook everything together.  
16. Add the oats and a little water. Stir regularly over low heat until the porridge has a creamy texture. Add salt, pepper, cumin and parsley, mix and taste to adjust the seasoning if necessary. Place the porridge in bento box n°3.  
17. Separate the eggs and place two eggs in bento box n°3 and two in bento box n°5.  
18. Cut the leeks (about 250 g) into thin strips and rinse them with clean water to remove all the dirt.  
19. Cover and cook them in a large wok with a little water and the tempeh. Add salt, pepper and parsley.  
20. In a saucepan put 1 tablespoon of peanut puree, a little garlic, 1 tablespoon of salted soy sauce, a little cumin, coriander, ginger, pepper and 70 ml of water. Heat over medium heat and stir with a whisk. As soon as the sauce is reduced, it's ready! Taste and adjust seasoning if necessary.  
21. Place the leek fondue in the bento box n°4 and add the sauce on top.  
22. Finalize bento box n°2 by adding the vegetables to the semolina and chickpeas. Sprinkle with salt, parsley and fresh coriander.