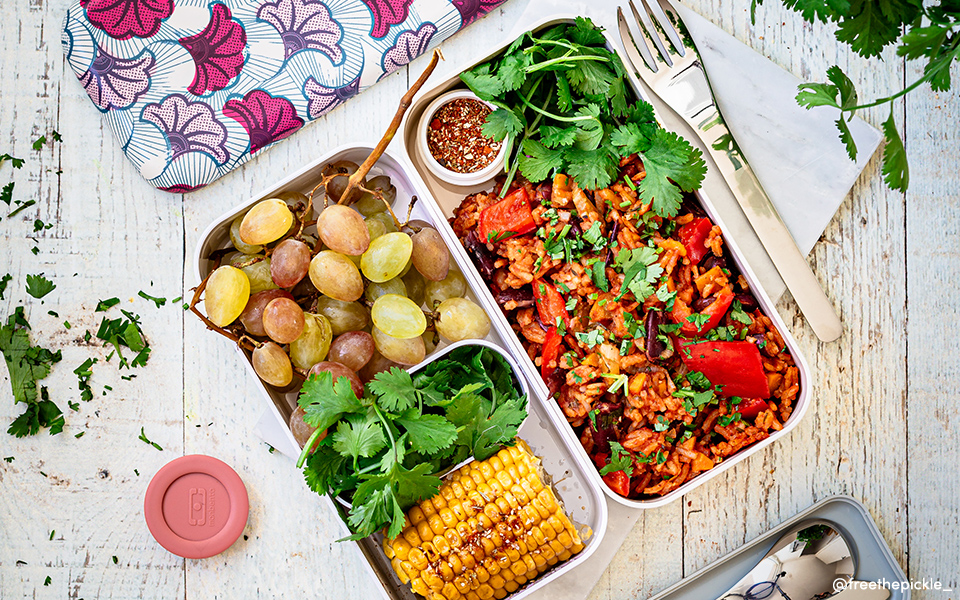 Ingredients
For the sautéed rice:
150 g of dry red beans or 350 g of canned red beans
1 yellow onion
2 small carrots
1 celery stick
2 tbsp of olive oil
2 garlic cloves
1 red bell pepper
4 tsp of ready-to-use or homemade Cajun spices
1 vegetable stock cube
250 g of white rice
450 ml of wate
For the homemade Cajun spices:
1 tsp of smoked paprika
1 tsp of garlic powder
1 tsp of dried oregano
½ tsp of fine sea salt
½ tsp of ground pepper
¼ tsp of Cayenne pepper
¼ tsp of thyme
¼ tsp of cumin
Instructions
The day before:
Soak the dried red beans in a large volume of water.
Prepare the Cajun spices by mixing all the spices. Set aside in the MB Temple S sauce cup.
 On the D-Day:
After draining the beans (and rinsing them if canned), cook them in a large saucepan of boiling water for about 1 hour. Drain and set aside.
Using a blender, cut the onion, celery and carrots into very small pieces.
Heat the olive oil in a stewpot over medium-high heat. Sauté the chopped vegetables for 3-4 minutes.
Add the pressed garlic and red bell pepper to the mixture. Stir regularly.
Add the Cajun spices and sauté for 2 to 3 minutes before adding the rice.
Crumble the stock cube directly into the pot with your fingers.
Pour in water and stir well.
Cover and let cook over low heat for 35 to 40 minutes. Do not stir and avoid opening the lid too often.
Place the dish in a container of the MB Original bento box and sprinkle with some Cajun spices and chopped cilantro leaves. Serve with a side of fried egg or corn on the cob and some fresh fruit for dessert.
Presented products