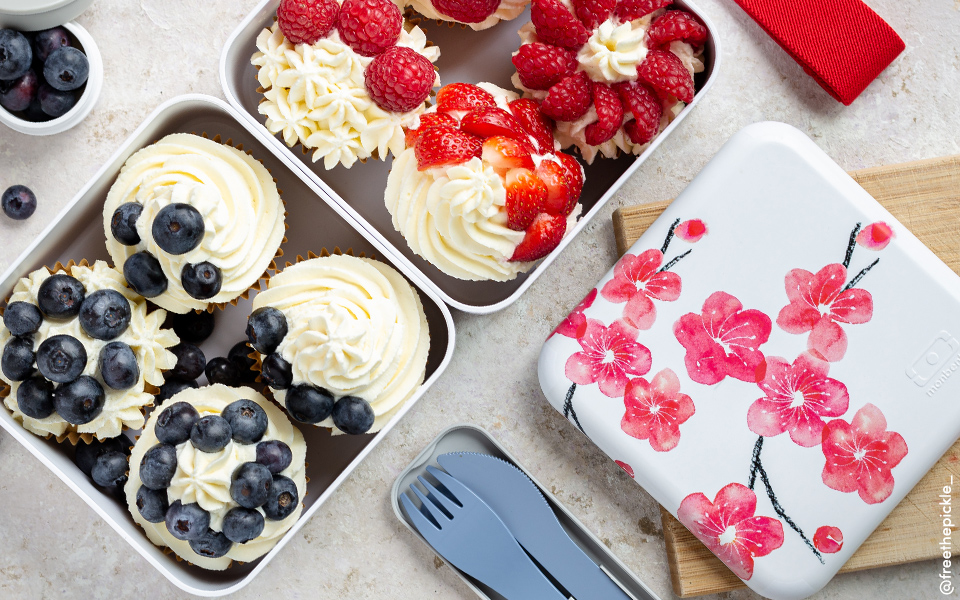 Ingredients
For the muffins:
260 ml of almond milk
1 tsp of apple cider vinegar
220 g of flour
180 g of sugar
2 tsp of baking powder
1 tsp of salt - 80 ml of neutral oil
1.5 tsp of vanilla extract
For the frosting:
180 g of mascarpone, cold
250 ml of whipping cream (30% fat), cold
50 g of powdered sugar - Red berries
Instructions
For the muffins: Preheat the oven to 175°C.
Place individual silicone muffin molds on a baking sheet. In a bowl, mix the almond milk and apple cider vinegar. Let stand for a few minutes so that the mixture can thicken.
In a large bowl, mix the flour, sugar, baking powder and salt. Then, add the milk/vinegar mixture, oil, and vanilla to the large bowl.
Mix until obtaining a smooth preparation. Fill the molds ¾ full, place them in the oven and bake for 20 minutes, or until the tip of a knife comes out clean. Once out of the oven, let the muffins cool down completely.
For the frosting: In a mixing bowl, mix the cream with the mascarpone and powdered sugar until the mascarpone is well incorporated.
Natacha and Daniela's tip: place the bowl in the freezer for 15-20 minutes before preparing the whipped cream. Using a hand or regular mixer, beat the cream, slowly at first and faster as it starts to thicken.
The whipped cream is ready when it looks thick and forms a peak on the whisk. Set aside in a cool place.
To frost: Place the cold icing in a piping bag. Pipe the cupcakes with a generous layer of frosting. Decorate with fresh berries. Enjoy immediately or chill until ready to eat.
Presented products