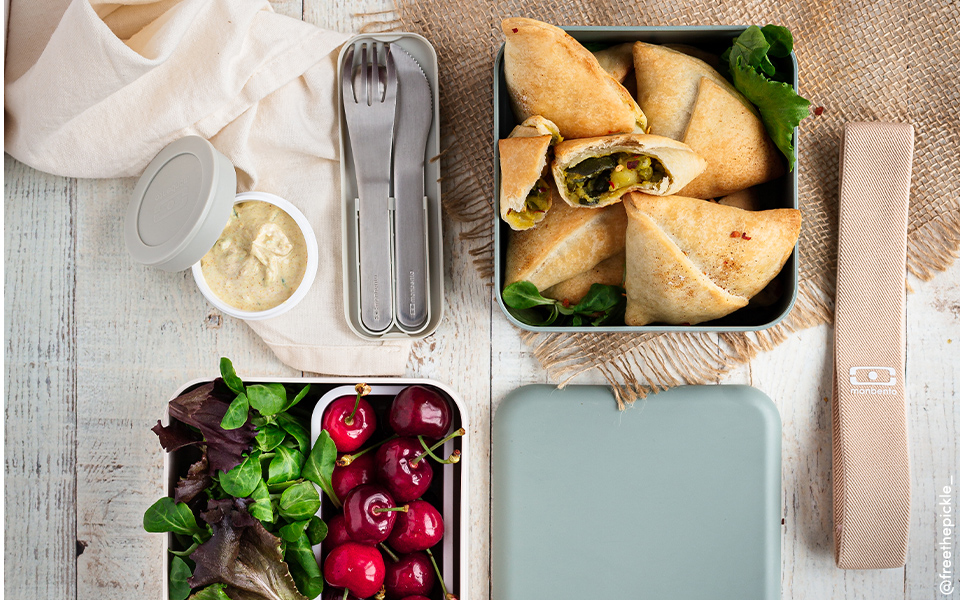 Ingredients
For the stuffing:
- 6 spring onions, chopped
- 1 tsp of fresh ginger, chopped
- 1 tbsp of sunflower oil
- 2 tbsp of curry powder
- ½ tsp of cumin
- ½ tsp of turmeric
- 2 potatoes (about 250g)
- 1 zucchini (about 250g)
- 100 g of peas
- 100 ml of water
- Salt
- Pepper
For the samosas:
- 2 rolls of pie crust
- 1 egg
Instructions
For the stuffing:
Heat the oil in a frying pan and fry the onions and ginger with the spices, over medium-high heat, for 5 minutes.
Peel and cut the potatoes into small cubes.
Add them to the pan. Slice the zucchini and add them to the pan, with the peas. Add salt, pepper, and water.
Cover and simmer over medium heat for 25 minutes, stirring occasionally. When the ingredients are cooked through, lightly crush the filling with a fork.
The stuffing can be prepared in advance and kept in a cool place.
To assemble and cook the samosas:
Preheat the oven to 180°C.
Cover a baking sheet with a baking mat. Unroll the first roll of dough and cut 3 circles using a bowl or a large cookie cutter.
Cut the circles in half to obtain semicircles.
To fold the samosas:
Place a semicircle on your kitchen counter, rounded side facing you. Fold the rounded side down into the center of the semicircle, forming a strip of dough.
Place a small spoonful of filling on one end of the dough strip. Fold the bottom left corner up to form a triangle, then the top left corner down and so on until the end of the dough strip.
Seal the samosa with your fingers by inserting the remaining part of dough into the folds made earlier.
Repeat with the other semicircles. With the leftover dough, make balls and roll them out with a rolling pin to create more samosas.
In a bowl, beat an egg, and, using a brush, brush the top of the samosas.
Presented products