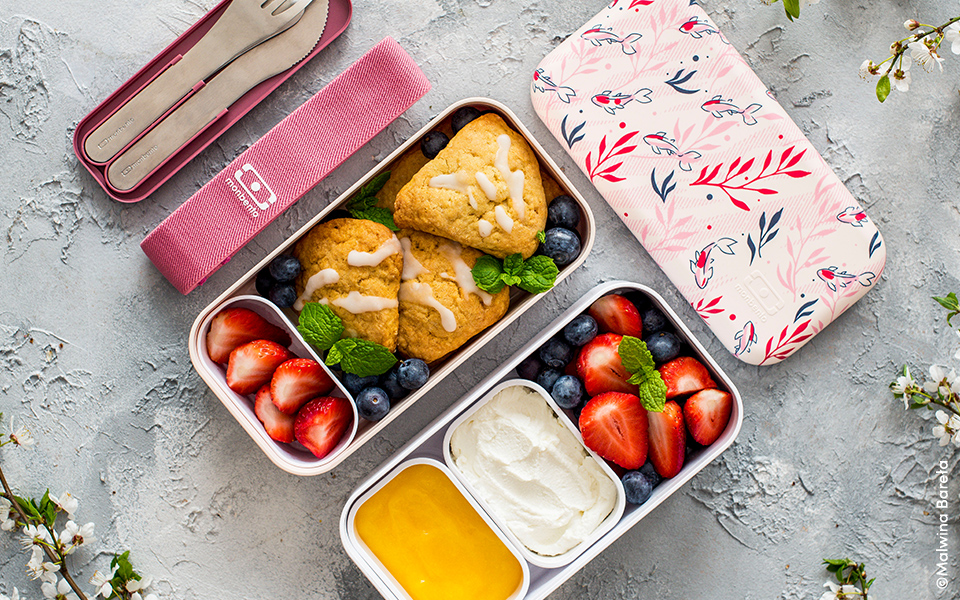 Ingredients
About 50 g flour

 

A

pinch of salt

 

½ t

sp

of

baking soda

 

½ t

sp of

baking powder

 

1

tbsp

of fine sugar

 

25 g cold butter,

c

ubed

 

40 ml

of

room temperature buttermilk

 

½ t

sp

of

natural vanilla extract

 
For the lemon icing:  
2

tbsp

of icing sugar 

 

1

t

sp

lemon juice

 
Instructions
Preheat the oven to 180°C.  
In a bowl, sift the flour, salt, baking soda and baking powder and mix.  
Add the sugar and cubed butter and rub, using your fingers, until obtaining fine crumbs.       
Pour the buttermilk into the bowl and stir with a large spoon until well combined.    
Malwina's tip: add a little more flour if necessary. 
Cover the bowl and place it in the refrigerator to cool for at least 30 minutes.  
Slightly dust the kitchen counter with flour.  
Using a rolling pin, roll out the dough into a 1 cm thick circle and cut it into 6 pieces.  
Place the scones on the baking sheet previously covered with a baking mat and bake for 10 to 12 minutes or until they get a nice golden-brown color. Let cool.   
For the lemon icing:  
In a small bowl, mix the powdered sugar with lemon juice using a teaspoon, until obtaining a shiny and smooth icing.  Pour it over the top of the scones and set aside to let solidify.  
Place the scones in the first container of the MB Original bento box and serve with lemon curd, cream cheese and seasonal fruit.  
The perfect spring brunch! 
Presented products