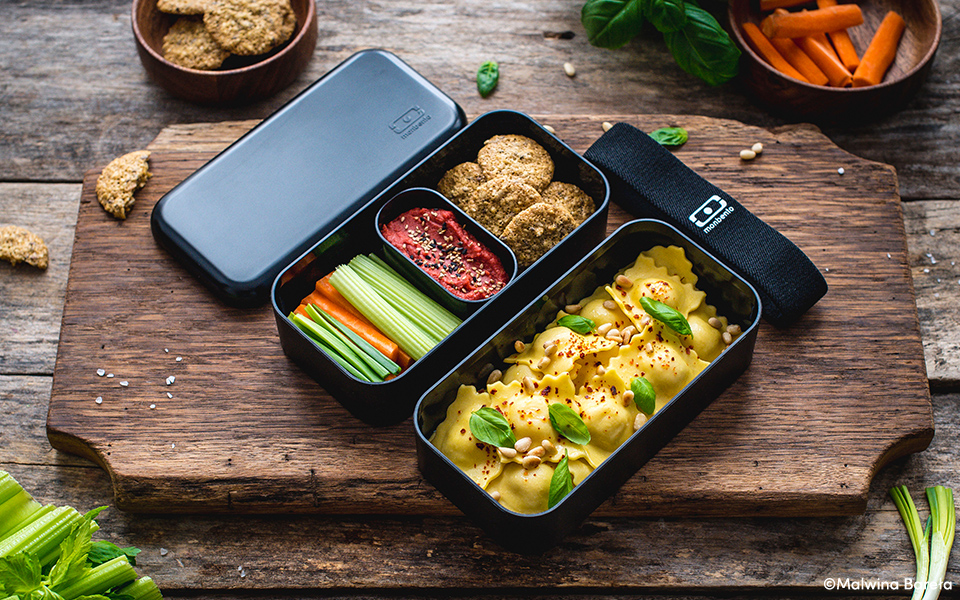 Ingredients
For the pasta: 
50 g of "00" flour

 

50 g of semolina flour

 

1/3 tsp of salt

 

1 egg

 
For the filling: 
80 g of sun-dried tomatoes

 

150 g of 

R

icotta cheese

 

1 

t

bsp of 

P

armesan

 cheese

, grated

 
For seasoning:  
1 

t

bsp of butter

 

1 small garlic clove, minced

 

1 tsp of roasted pine nuts 

 

Some f

resh basil leaves 

to

 

sprinkle

 

Some r

ed chili flakes 

to

 

sprinkle

 
For the beetroot and white bean dip: 
60 g of cooked or roasted beets, peeled 

 

60 g of cooked or canned white bean

s

, rinsed and drained

 

1 

t

bsp of lemon juice

 

1 

t

bsp of olive oil

 

1 heaped 

t

bsp of peanut butter

 

A pinch of ground cumin

 

Salt 

 
Instructions
For the ravioli and filling: 
In a bowl, mix the flour, semolina, salt and sift onto a work surface.  
Make a hole in the center of the mixture, add the egg and beat it with a fork.  
Gradually add the flour to the egg. Once they are combined, knead the dough with your hands for about 8 minutes (if the dough is too sticky, don't hesitate to add more flour).  
Wrap the dough, place it in the refrigerator and chill for up to one hour. 
Chop the tomatoes very thinly.  
In a bowl, put the tomatoes, the Ricotta and Parmesan cheese. Season with salt and pepper to taste, and mix with a teaspoon until combined. Cover the bowl and put it in the refrigerator.  
Using a pasta machine or a rolling pin, roll out the dough until it is very thin - about 1 or 2 millimeters thick. Then, divide it into 2 rectangular and equal dough sheets. 
Create small balls of filling and place them on the first dough sheet, about 4 cm apart. Cover with the second sheet of dough and press around the filling balls to remove the air. 
Using a ravioli or a pizza cutter, cut out the ravioli. 
In a large pot, bring salted water to a boil. Stir in half of the ravioli, return to a boil and cook for 3-4 minutes until the dough is soft. Drain well and repeat this step with the rest of the ravioli. 
In a large saucepan, melt the butter. Add the garlic and sauté for 1 minute. Add the ravioli and mix gently to cover them with butter. Let them cool before placing them in the first container of your MB Original bento box. Sprinkle with basil leaves, pine nuts and red pepper flakes.  
Reheat the ravioli before eating. 
For the beet and white bean dip: 
Blend all the ingredients until obtaining a smooth dip. Add some cold water if needed.  
Place the dip into the food cup of the second container of your MB Original bento box.  
Serve with sticks of your favorite vegetables and cookies for dessert. 
Presented products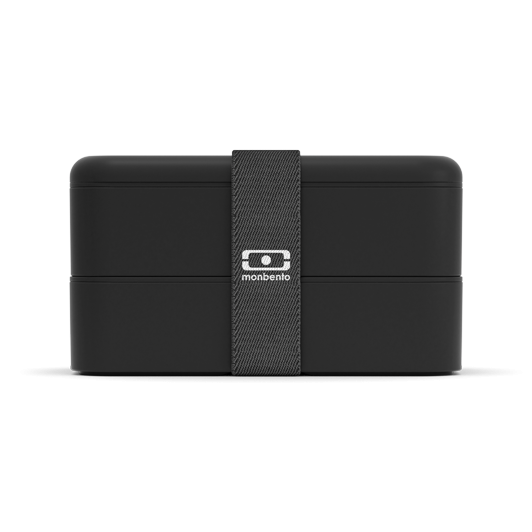 MB Original black Onyx
Buy now