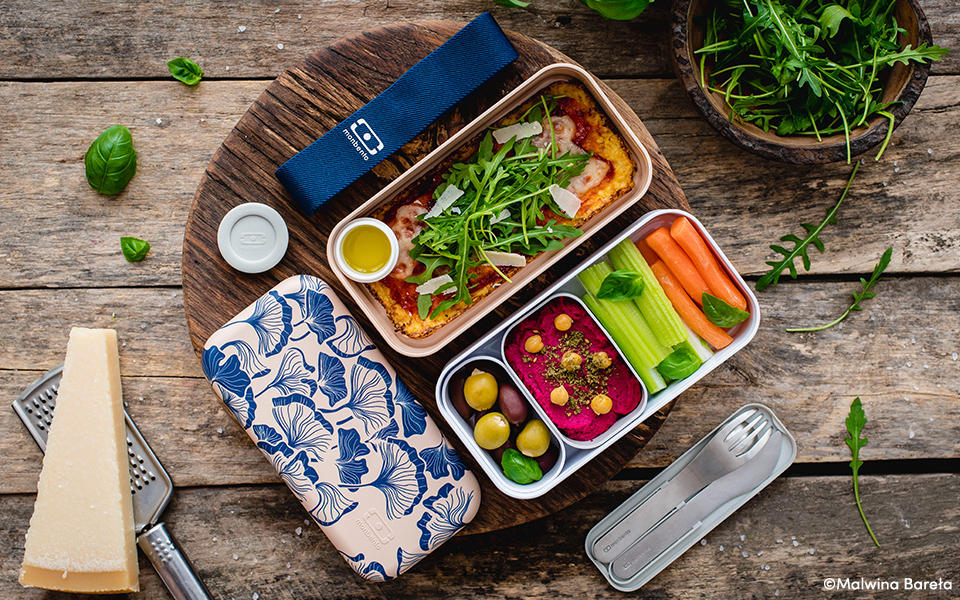 Ingredients
For the cauliflower pizza: 
200 g of raw cauliflower florets

 

1 egg yolk

 

30 g of grated Parmesan cheese

 

A pinch of oregano

 

A pinch of granulated garlic

 

1 heaped 

tbsp

 of 

fav

o

rite

 Italian tomato sauce or 

ajvar

 

2 slices of mozzarella cheese

 

A small handful of arugula

 

Some olive oil to drizzle

 
For the beet hummus: 
100 g of cooked or canned chickpea, drained

 

1 small

 

garlic

 

clove

 

3 tsp of olive oil

 

1 

t

bsp of lemon juice

 

80 g of cooked or baked 

beet

s

, peeled

 

1 heaped 

t

bsp of tahini paste

 

1/4 tsp of ground cumin

 

Salt to taste

 

Za'atar 

to 

sprinkle

 
Instructions
For the cauliflower pizza: 
Preheat the oven to 200°C.  
Boil some water in a large pot. Add the cauliflower florets and cook until they become soft, approx. 8 minutes. Drain, let cool and blend until obtaining a homogeneous paste. 
Pour the cauliflower purée on a clean kitchen towel and squeeze out as much liquid as you can. 
Place the cauliflower pulp into a large bowl, add the egg yolk, cheese, oregano and garlic, and mix well.  
Pour the mixture into the MB Silicase 3/3 mold and bake for 20-25 minutes or longer, until it becomes crisp and golden brown. 
Remove from the oven, add the tomato sauce and sprinkle the cheese over the dough. Bake again for 5-10 minutes. 
At the end of the baking time, let cool before removing the mold, and place the pizza in the first container of the MB Original bento box. Sprinkle with some rocket leaves. 
Place a little bit of olive oil in the MB Temple S sauce container and drizzle some over the pizza before eating. 
For the beet hummus: 
In a food processor, put the chickpea, garlic, olive oil, lemon juice, beets, tahini paste, cumin and salt. Add 2 tablespoon of cold water and blend until the hummus is smooth and creamy. 
Pour the beet hummus into the MB Silicase 1/3 mold, sprinkle some zaatar and place it in the second compartment of the MB Original bento box.  
Serve with vegetable sticks. 
Presented products