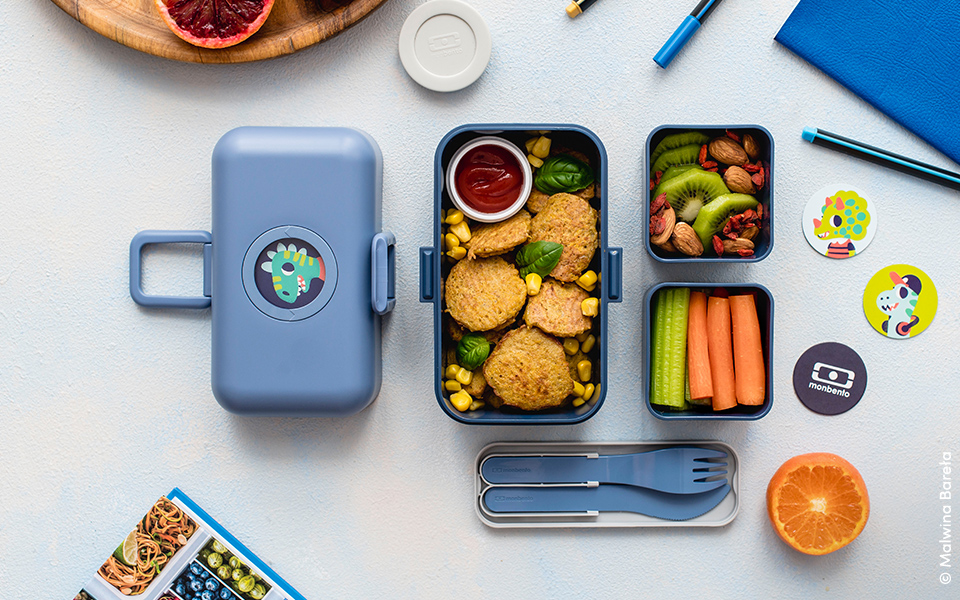 Ingredients
100 g of sweet potato, 

peeled

 

 

2 

t

bsp of red onion, finely 

diced

 

 

2 eggs, lightly 

beaten

 

2 

t

bsp of flour

 

¼ tsp of salt

 

A pinch of black pepper

 

½ tsp of sweet paprika powder

 

¼ tsp of ground cumin 

 

Oil 

 

Ketchup

 
Instructions
Using a vegetable grater, finely grate the sweet potato, using the side normally dedicated to nutmeg or lemon zest.  
In a large bowl, beat the eggs with the flour and spices. Add the sweet potato and onion and mix until everything is perfectly combined. Set aside for 5 minutes and mix again.  
In a frying pan, heat the oil over medium heat.  
Using a teaspoon, place one spoonful of sweet potato mixture into the pan, forming small pancakes. Fry for 3-4 minutes on each side, until they become golden brown. Remove excess oil and let cool down before placing them in the MB Tresor bento box.  
Serve the pancakes with some corn kernels and ketchup sauce, previously placed in the MB Temple M sauce container.  
Serve with some vegetable sticks as a starter and fresh and dried fruit for dessert. 
Presented products