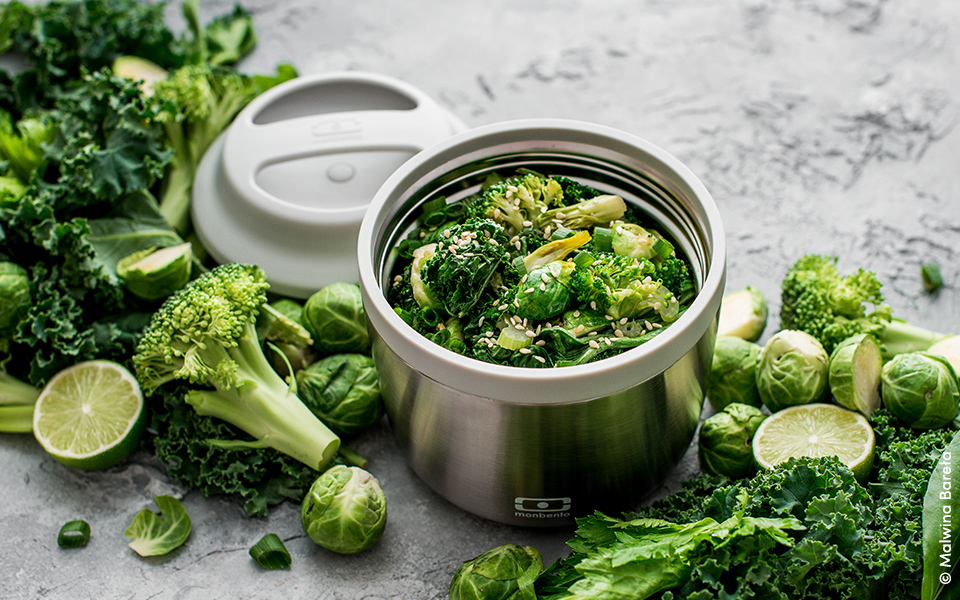 Ingredients
1 garlic clove, minced

 

1 tsp of ginger, finely chopped

 

1 celery stalk, chopped in small pieces 

 

100 g of small broccoli florets

 

100 g of small 

B

russels sprouts, quartered

 

1 

small 

bok

 choy, washed and cut into 4-cm chunks

 

1 handle of kale

 

2 tbsp of 

japanese

 soy sauce 

 

1 tbsp of lime juice

 

1 tsp of brown sugar

 

A

 p

inch of chili powder

 

1 spring onion, finely diced 

 

1 tsp of sesame seeds 

 

1 tbsp of oil

 
Instructions
In a small bowl, mix the soy sauce, lime juice, sugar and chili powder. 
Heat the oil in a large wok. Fry the celery stalk, broccoli, Brussels sprouts and bok choy on medium heat for 4-5 minutes. Stir occasionally. Add the kale and stir again.  
Add the previously prepared sauce, mix well and sauté for 2 more minutes.  
Put the hot dish into your MB Element insulated bento box and sprinkle with spring onion and sesame seeds.