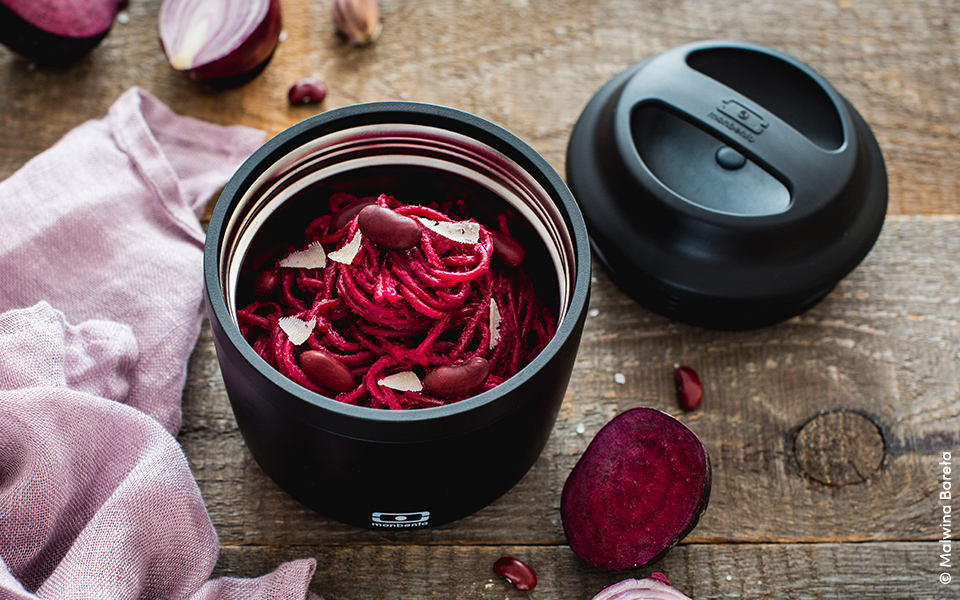 Ingredients
100 g of spaghetti 

 

2 garlic cloves, minced

 

100 g of roasted 

beet

s

, peeled 

 

T

he juice from half a lemon

 

2 

t

bsp of walnuts

 

2 

t

bsp of parmesan cheese + 

1 tbsp for presentation

 

2-3 

t

bsp of olive oil

 

1 small red onion, sliced into half-moons

 

20 g of red kidney bean

s

, rinsed and drained 

 

Oil for frying

 

Salt 

 

P

epper

 
Instructions
In a large pot, boil the water and cook the pasta according to the packet instructions. Drain well and set aside.  
In a high-edged bowl, blend the garlic, beets, lemon juice, walnuts, 2 tbsp of parmesan cheese and olive oil with a hand blender. The beet pesto should be completely smooth. Add salt and pepper, if necessary.   
Heat the oil in a frying pan. Add the onion and fry for 4-5 minutes until soft. Add the beet pesto, red kidney beans and drained spaghetti, mix well and cook for 1-2 extra minutes.  
Put the pasta into the MB Element insulated lunch box and sprinkle with some parmesan cheese.