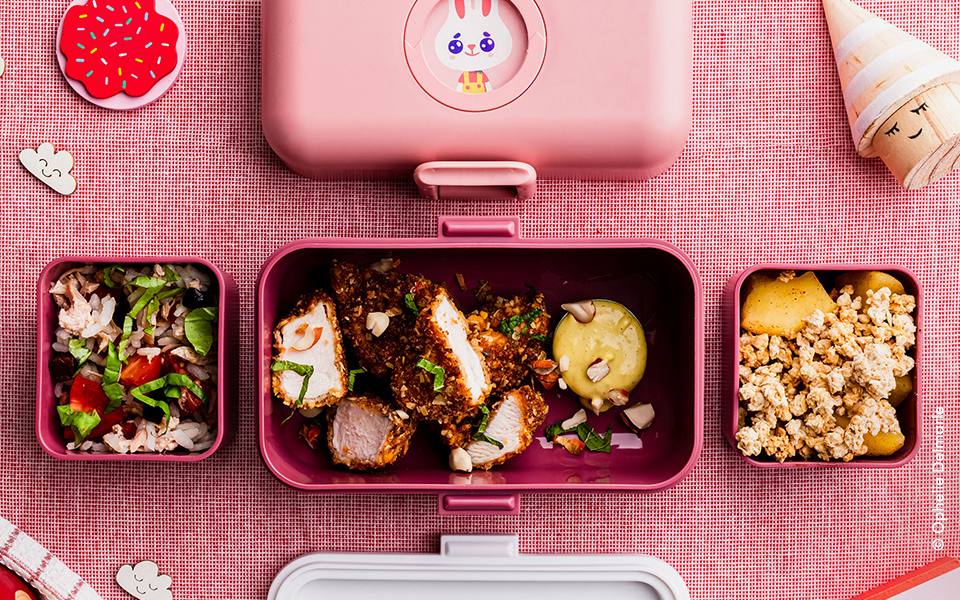 Ingredients
Starter:
300 g of cooked rice
80 g of cooked canned tuna
Black olives, cut
Cherry tomatoes, cut in 4
½ spring onion, minced
1 green bell pepper, cut into cubes
4 radishes, sliced
Basil, minced
Olive oil
Main course:
2 chicken fillets
2 tbsp of flour
2 eggs
50 g of breadcrumbs
1 handful of walnuts
30 g of oatmeal
50 cl of canola oil
2 tbsp of peanut butter
10 cl of coconut milk
1 tbsp of soy sauce
1 tbsp of curry
1 tbsp of honey
Dessert:
80 g of plain or dried fruit muesli
3 apples, quartered
3 tbsp of sugar
1 tsp of cinnamon
1 knob of butter
Instructions
Prepare the niçoise style rice salad:
Mix the ingredients in a large bowl and season with olive oil, salt and pepper. If your children are brave enough, you can replace the salt with a few anchovy fillets.
Prepare the chicken nuggets & peanut sauce:
For the peanut sauce: In a small saucepan, mix all the ingredients and bring to a boil while beating to incorporate the peanut butter, especially if it has a thick consistency. Let reduce for 3 to 5 minutes and then let cool.
For the chicken nuggets: Using a blender, blend the breadcrumbs, walnuts and oatmeal. Then, prepare 3 different bowls: one with the flour, one with the eggs that have been beaten and one with the walnut-breadcrumbs mixture. Cut the chicken fillets into strips to form nuggets and dip them successively through the flour, beaten eggs and breadcrumbs. Heat the oil in a deep fryer or in a pan and fry the nuggets for 5 minutes.
Prepare the apple-cinnamon crumble:
In a small saucepan, melt the butter with the sugar and let caramelize slightly. Add the apple quarters and cinnamon, then mix and cook covered over low heat for 15 minutes. Arrange the cooked apples in a bowl and top with a layer of muesli!
Presented products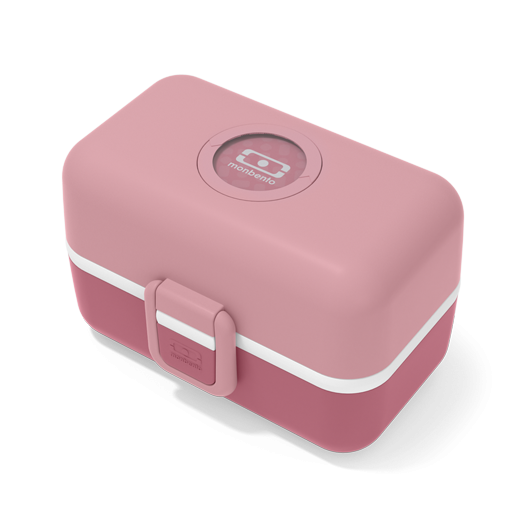 MB Tresor pink Blush
The kids' bento box
Buy now