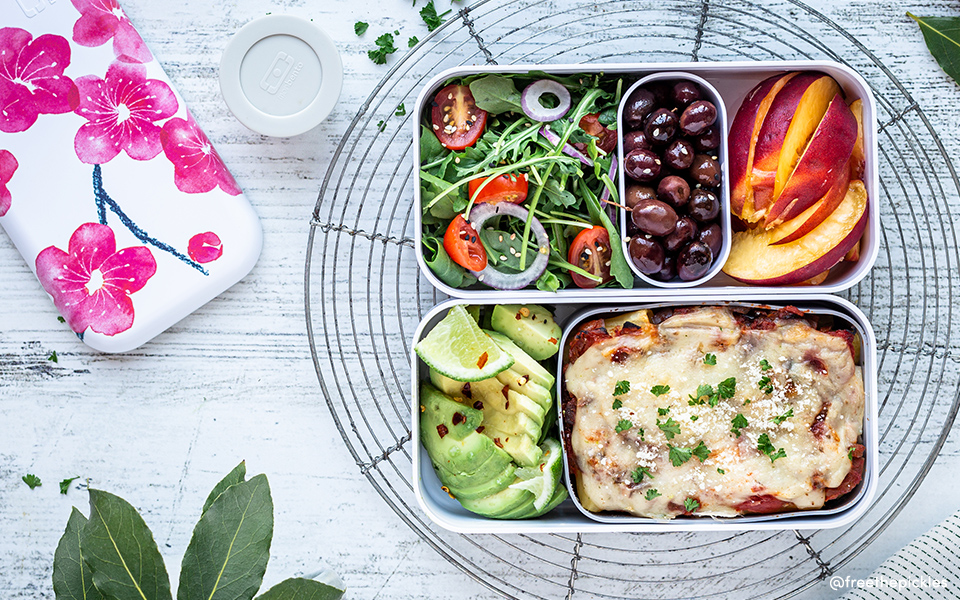 Ingredients
For the eggplant sauce :
2 eggplants (about 750 g)
8 tbsp of olive oil
1 onion, chopped
2 large garlic cloves, pressed
2 bay leaves
½ tsp of cinnamon powder
500g of peeled tomatoes
2 tbsp of water
1 tsp of sugar
Salt
Pepper
For the bechamel sauce:
100g of butter
100g of flour
1L of milk (or plant-based milk)
2 tsp of nutmeg
Salt
Pepper
To assemble:
500g of Tortiglioni pasta cooked al dente
100g of parmesan cheese
Instructions
Prepare the eggplant sauce: Cut the eggplants into pieces and put them in a blender. Mix several short times until obtaining small pieces of eggplant (make sure to stop mixing before obtaining mashed eggplants).
Heat the olive oil in a high-sided frying pan over medium heat. Add the onion, bay leaves and cinnamon and cook for 5 minutes. Then, add and brown the eggplants for about 15 minutes. Finally, add the tomatoes, water, sugar and season to taste. Mix well and simmer for another 15 minutes.
Prepare the bechamel: In a saucepan, melt the butter over low heat. Then, sprinkle in the flour while stirring with a wooden spoon to obtain a roux. Add the milk little by little while beating gently (still over low heat) until obtaining a homogeneous and slightly thick mixture. Remove from the heat and add the nutmeg, salt and pepper.
To set the plate up: Preheat the oven to 190°C. Place the cooked pasta at the bottom of a large oven dish. Add the eggplant sauce on top, the bechamel sauce and sprinkle with parmesan cheese. Bake at half height for 25 to 30 minutes. Add one slice of gratin to your MB Silicase 2/3 mold and place it in your MB Original bento box.
This recipe goes perfectly with green salad, yellow nectarine and small olives to remind you of the Italian sun.
Presented products