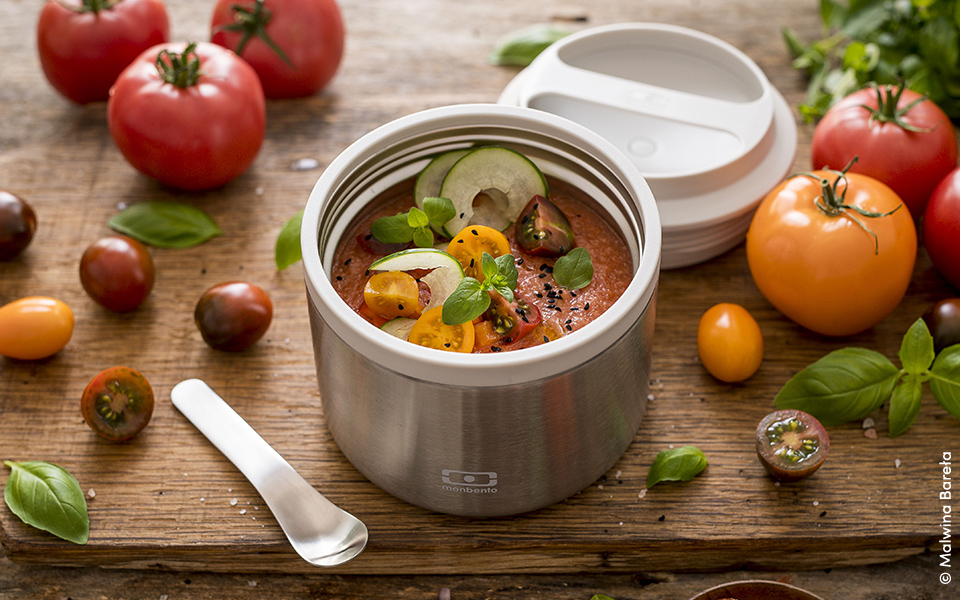 Ingredients
400 g of tomatoes, peeled, deseeded and chopped
1 small cucumber, peeled and chopped
100 g of chopped red bell pepper
2 tbsp of chopped red onion
1 garlic clove, peeled and finely chopped
1 tsp of fresh oregano leaves
2 tbsp of balsamic vinegar
3 tbsp of olive oil
Salt and black pepper, to taste
Nigella seeds
Fresh oregano leaves
Instructions
Put the tomatoes, cucumber, bell pepper, onion and garlic in a blender or food processor. Blend until obtaining a smooth soup. Add the fresh oregano leaves, balsamic vinegar and olive oil and blend again. Season to taste with salt and freshly ground black pepper.
Let sit in the fridge for at least 1 hour before serving.
Pour the soup into the MB Element insulated bento box. In order to add some texture to your soup and to decorate your bento box, you can sprinkle with Nigella seeds or add some tomatoes cut in half, pieces of red onion and bell peppers or even some extra oregano leaves.
Presented products