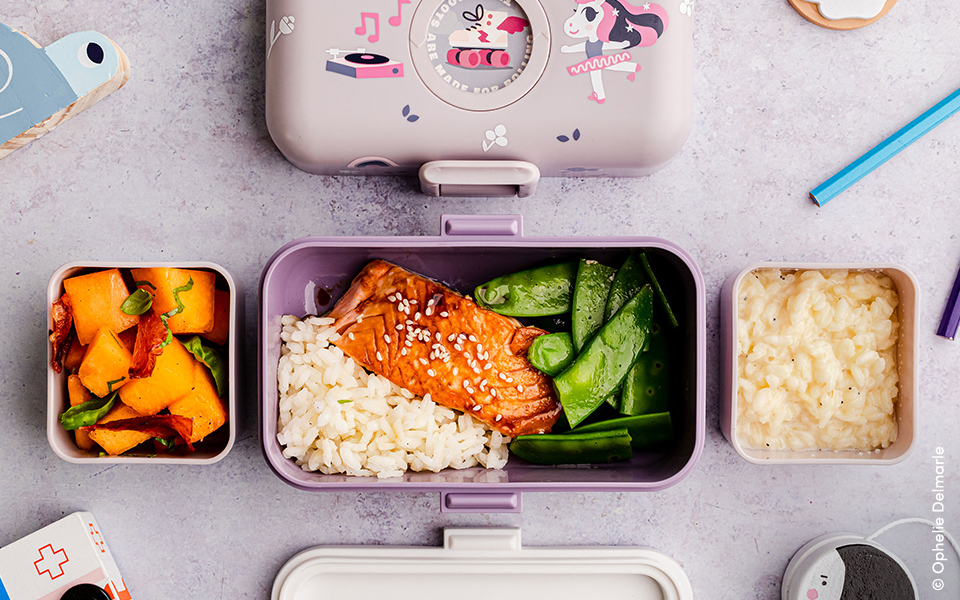 Ingredients
Starter:
½ melon, cut into cubes
3 slices of bacon
Basil leaves

1 tsp of olive oil
Salt
Pepper
Main course:
2 thick slices of salmon
200g of snow peas
200g of basmati rice
2 tbsp of sweet soy sauce
1 tbsp of canola oil

1 tsp of sesame seeds
Basil leaves
Dessert:
75cl of milk
75g of rice
4 tbsp of sugar
1 tsp of vanilla extract
Instructions
Prepare the melon salad with grilled bacon:  Grill the bacon slices in the oven at 180°C for 5 minutes. Turn off the oven and leave the bacon in for an additional 5 minutes to dry it out and make it crispier. In a bowl, mix the melon cubes with the olive oil, chopped basil, salt and pepper. Fill the first food cups of the MB Tresor bento boxes and add the crispy bacon on top.  
Cook the salmon with soy and sesame sauce and its side:
For the basmati rice: In a saucepan, wash the rice in a large volume of water and repeat until the water is clear. Add 3 cups of water to 2 cups of rice and bring to a boil. Cover the pan and lower the heat, then let cook for 15 minutes. Using a spatula, pour the rice into a large bowl. If any rice grains have stuck to the pan, leave them aside.
For the snow peas: Bring a large volume of salted water to a boil. Cook the snow peas for 5 to 8 minutes depending on the desired texture, crunchy or melting. Drain and set aside.
For the salmon: Heat a frying pan over medium heat. Then, pour a drizzle of canola oil and add the salmon slices (on the skin side). Halfway through cooking, after 3 to 5 minutes, add the sweet soy sauce. Turn off the heat, flip the salmon over and let cook gently for 3 additional minutes. Sprinkle the sesame seeds at the last moment.  
Prepare the vanilla rice pudding: In a saucepan, bring the milk, sugar and vanilla extract to a boil. Add the rice, lower the heat and cover the pan to simmer the rice. Fill the second food cups of the MB Tresor bento boxes and let cool.
Presented products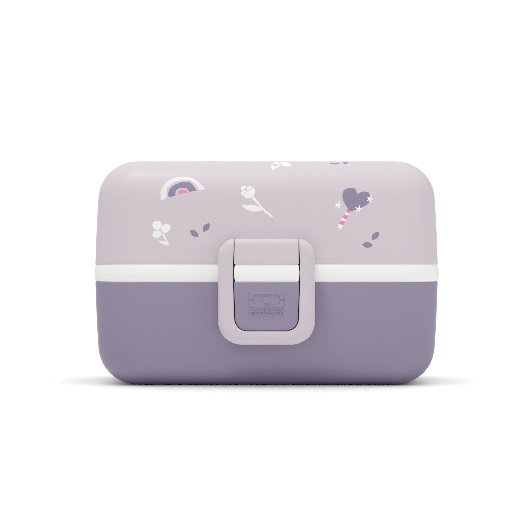 MB Tresor purple Unicorn
The kids' bento box
Buy now