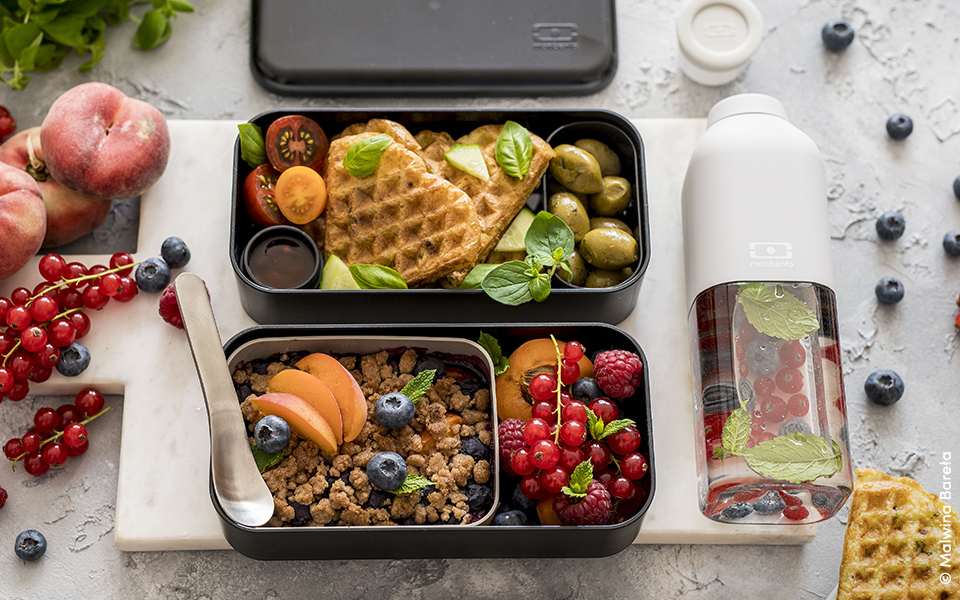 Ingredients
For the potato waffles:
500g of potatoes
1 egg
1 small onion, finely chopped
2 tbsp of chopped fresh herbs (basil, thyme, oregano)
1 spring onion, finely diced
2 tbsp of plain flour
½ tsp of salt
¼ tsp of black pepper
1 tsp of olive oil
For the apricot and blueberry crumble:
15g of cold unsalted butter, cut into pieces
1 tbsp of sugar
20g of plain flour
2 apricots, pitted and cut into wedges
30g of blueberries
For the fruit-infused water:
1 tbsp of redcurrant
1 tbsp of blueberries
5 mint leaves
Cold water
Instructions
Prepare the potato waffles: Peel the potatoes, wash them, and grate them with a medium-hole grater. In a bowl, mix the grated potatoes, egg, onion, flour, herbs, spring onion, salt, and pepper. Preheat the waffle iron and brush it with olive oil. Pour some batter into the waffle iron. Close it and cook until the dough becomes crispy and golden brown on both sides (approximately 5-7 minutes). Serve with vegetables and your favorite sauce, like a homemade chilli sauce for example. For the apricot and blueberry crumble: Wash the fruit and place them into the MB Silicase silicone medium mold. In a bowl, mix the sugar and flour. Then, add the butter pieces, knead by hand until obtaining coarse breadcrumbs. Preheat the oven to 180°C. Sprinkle the crumble over the fruit and bake for about 25-30 minutes until golden brown. For the fruit infusion: Wash the fruit and put them into your MB Positive M bottle. Add the mint leaves and fill rest of the bottle with water. Let chill and infuse for at least 30 minutes in the refrigerator.