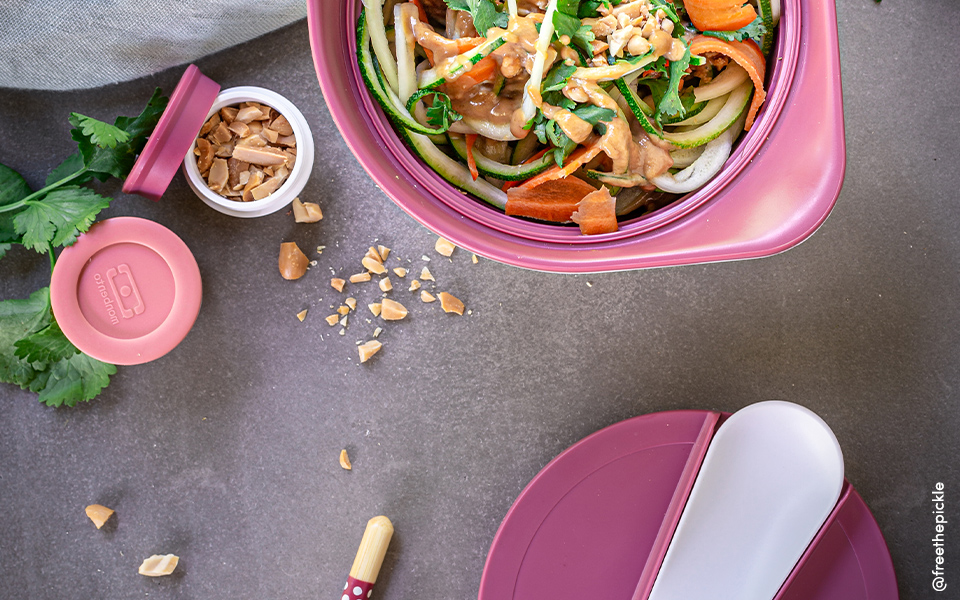 Ingredients
For the peanut sauce:
1 tbsp of peanut butter
1/2 tbsp of sesame oil
1/2 tbsp of soy sauce (or tamari)
1/2 tbsp of rice vinegar
1 tbsp of water (to adjust according to the desired consistency)
1/2 tsp of maple syrup (or sugar)
Ground pepper
For the vegetable noodles:
1 small zucchini (about 200g)
1/2 carrot (about 40g)
3 cilantro sprigs
1 tbsp of crushed raw peanuts
Instructions
Prepare the peanut sauce: Mix all the ingredients until the peanut butter is completely diluted in the sauce. Season to taste. Set aside.
Next, make the vegetable noodles: using a spiralizer or a vegetable peeler, cut the zucchini and carrot into thin strips.
Finely chop the cilantro and crush the raw peanuts.
Mix everything together and place it into your MB Lib on-the-go bowl.
Presented products