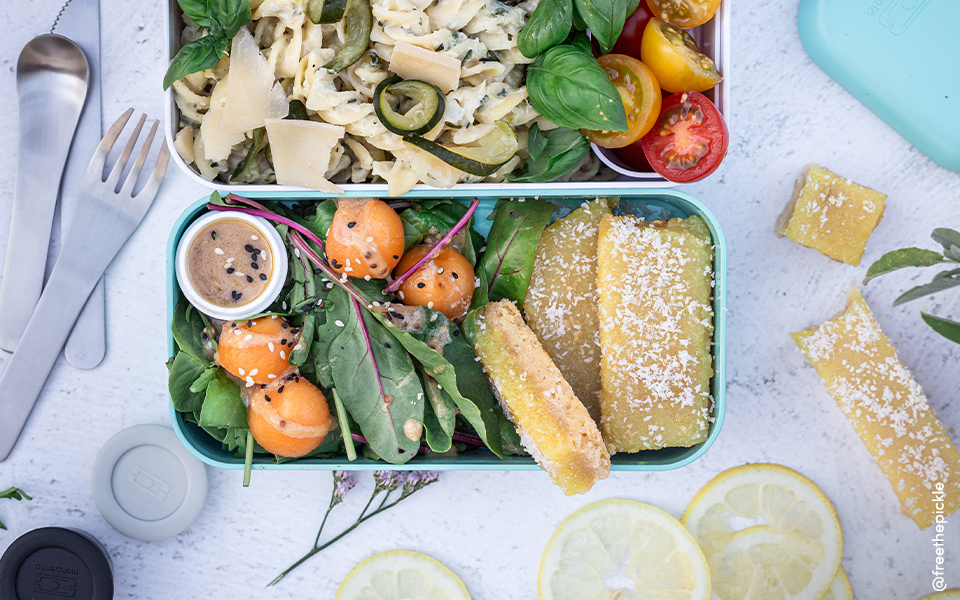 Ingredients
For the main course:
480g of zucchini (preferably organic)
90g of shallots (about 4 shallots)
100g of heavy cream
20g of grated parmesan cheese
Salt, pepper
500g of cooked pasta (fusilli)
For dessert:
140g of flour
A pinch of salt
110g of butter
190g of white sugar
120ml of lemon juice (about 3 lemons)
200ml of coconut cream
30g of tapioca starch
A pinch of turmeric
A pinch of salt
The zest of half a lemon
1 tbsp of grated coconut for decoration
Instructions
For the zucchini and shallot cream:
Slice the zucchini and shallots before steaming them for about 20 minutes (or until the vegetables are tender). Once everything is cooked, puree the vegetables using a hand blender (the purée should not be completely smooth). Add the cream and parmesan cheese and season to taste. Pour the cooked pasta into the sauce before placing it into your bento box.  
For the lemon and coconut bars:
Prepare the dough for the lemon and coconut bars. First, preheat the oven to 180°C. Prepare your tart dish (30x10 cm or 20x20 cm square dish) by putting some baking paper on the bottom or buttering it. In a large bowl, mix the flour, salt and 50g sugar. Cut the butter into chunks and add it to the bowl, little by little, with your fingers (just like you would prepare a crumble). Once the butter is well incorporated, but there are still some pieces left, form a ball. Spread the dough by hand at the bottom of the dish. Bake on the middle shelf of the oven for 20 minutes. Take it out and set aside.
Then prepare the bars: Mix all the ingredients (sugar, lemon juice, coconut cream, tapioca starch, turmeric, salt and lemon zest) in a saucepan until the mixture is smooth. Place over medium-high heat and stir constantly. The mixture will start to thicken at some point. Remove from the heat once large bubbles appear (about 6 minutes). Transfer the preparation to the baking pan and bake again for 15 minutes. Remove the pan from the oven and let it cool completely before unmolding.
Ideally, it should be set aside in a cool place for 3 to 4 hours (or overnight) before serving!
Presented products