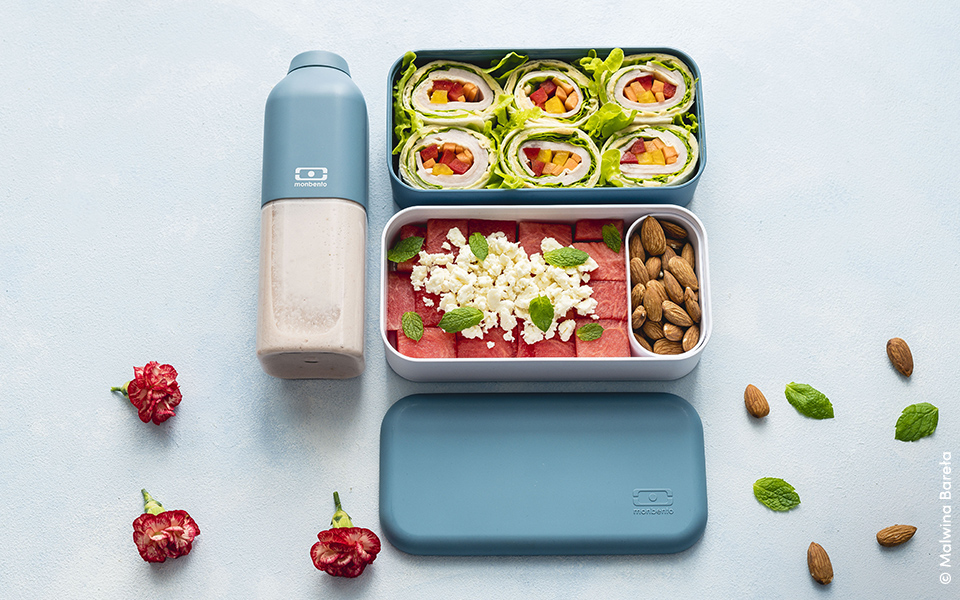 Ingredients
For the wraps: 
1 tortilla
2 lettuce leaves

3 tbsp of hummus
3 ham slices

1/8 fresh red bell pepper, sliced
1/8 fresh yellow bell pepper, sliced

1 small carrot, sliced
For the smoothie:
1 cup of milk
1 banana
¾ cup of fresh strawberries

1 tbsp of honey
Instructions
Prepare the wraps: Spread hummus over the tortilla. Cover it with lettuce and sliced ham. Add the carrot, yellow and red bell peppers on top. Roll up the tortilla tightly and cut it in 6 pieces. Place the pieces into your MB Original bento box.
For the smoothie: Blend all the ingredients together until obtaining a smooth texture. Fill your MB Positive M reusable bottle.
This recipe is perfect with some almonds and watermelon pieces.
Presented products