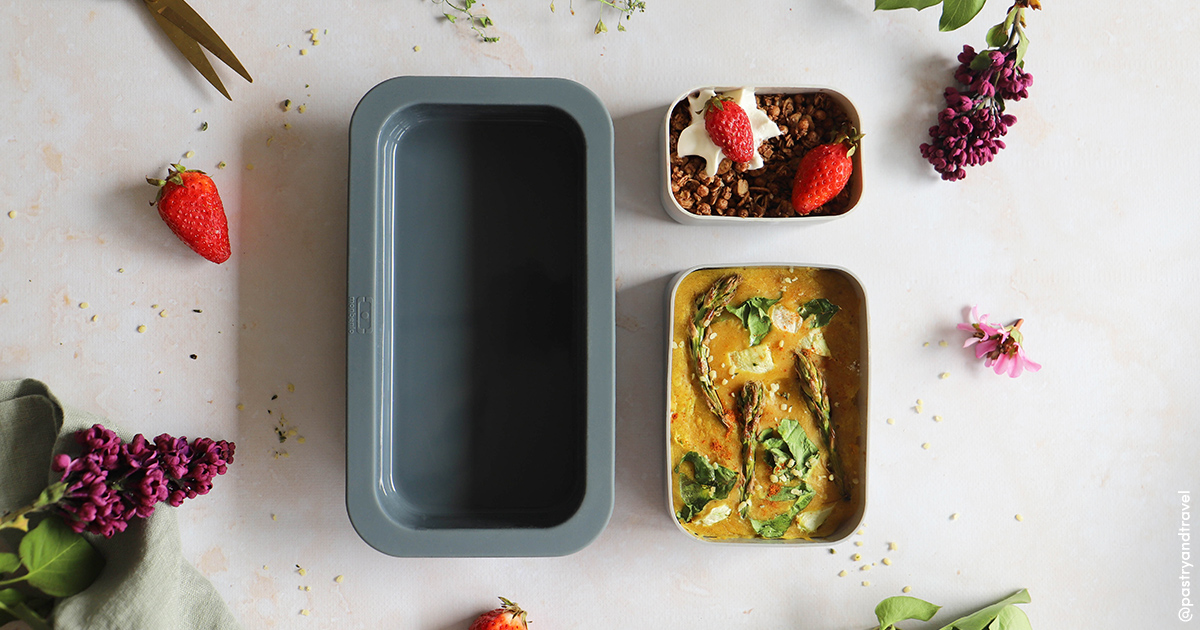 Ingredients
For the salty cake:
60 g of flour 80 g of almond milk
½ of carrot
3 asparagus
1 tbsp of pesto
1 tbsp of olive oil
1/3 packet of baking powder
1 tsp of turmeric
A pinch of salt
For the strawberry crumble:
5 strawberries
20 g of margarine
20 g of sugar
20 g of flour
A pinch of baking powder
Instructions
For the curcuma and asparagus cake: In a saucepan, bring water to a boil. Then, add the asparagus and let it cook for 20 minutes. Remove the asparagus with a skimmer and set aside. Preheat the oven at 180°C. Cut the carrot and the cooled asparagus into pieces. In a salad bowl, mix flour, almond milk, pesto, baking powder, turmeric and salt until a smooth dough is obtained. Then, add the pieces of carrot and asparagus. Mix delicately. Pour the mixture into your intermediary MB Silicase mould and bake for 10 to 15 minutes.   For the strawberries crumble: Cut the strawberries into pieces and place them on the bottom of you small MB Silicase mould. In a salad bowl, mix margarine, sugar, flour and baking powder to obtain a sandy dough. Cover the strawberries with the mixture and bake for about 10 minutes at 180°C.