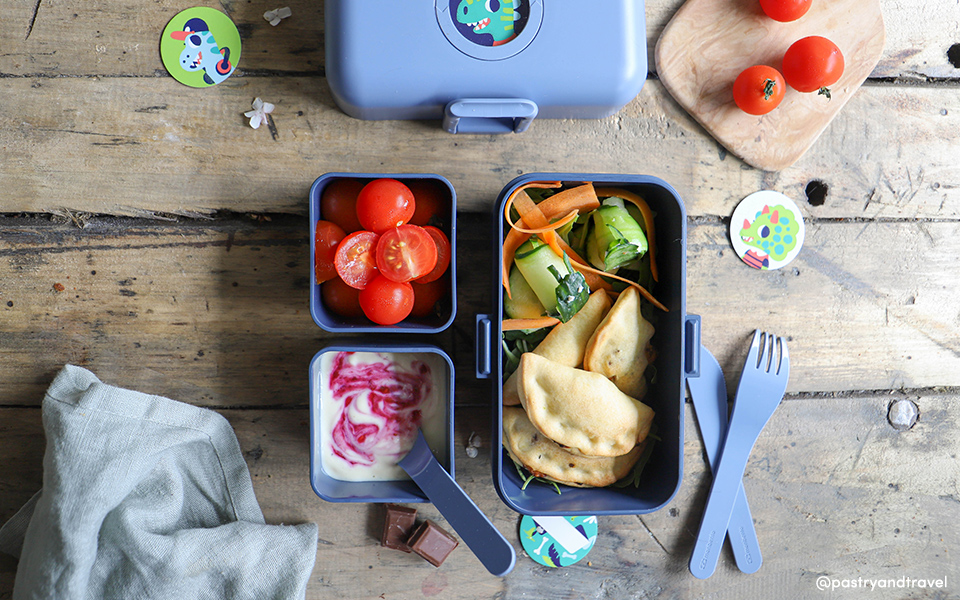 Ingredients
250 g of flour
100g of margarine
50g of cream cheese or feta cheese
1 tps of almond milk or 1 egg yolk
80g of water
A handful of fresh spinach
½ cucumber
Salt
Instructions
For the empanadas:
Prepare the pastry by mixing flour, margarine and a pinch of salt, until obtaining a sandy dough. Gradually add water and knead the dough until it gets a smooth texture and forms a ball. Flour both you kitchen counter and the dough. Then roll it out with a rolling pin (approximately 3 mm thick). Cut out circles of dough of about 10 cm of diameter and set aside.
Then, prepare the stuffing. Remove the stem of spinach leaves, rinse with water and drain. In a saucepan, bring water to a boil, add the spinach leaves and let cook for 5 minutes. Plunge them into cold water to stop the cooking process. Drain to eliminate the maximum of water.
In a salad bowl, prepare the stuffing by mixing the cold spinach leaves, 30g of cheese cream and a pinch of salt. Take a circle of dough and place the stuffing on one half. Wet the edges of the dough and close by pressing in order to make the empanada. Brown the empanadas with a pastry brush and almond milk or egg yolk.
For the cucumber snails:
Cut cucumbers in slices with a mandolin. Place one teaspoon of cheese cream at one end of each slice and roll it to form the snails' bodies. Add a piece of cucumber skin to create the head.  
This recipe goes perfectly with some cherry tomatoes and a yogurt with red berries coulis placed in each foodcup of the MB Tresor kids' bento box.
Presented products