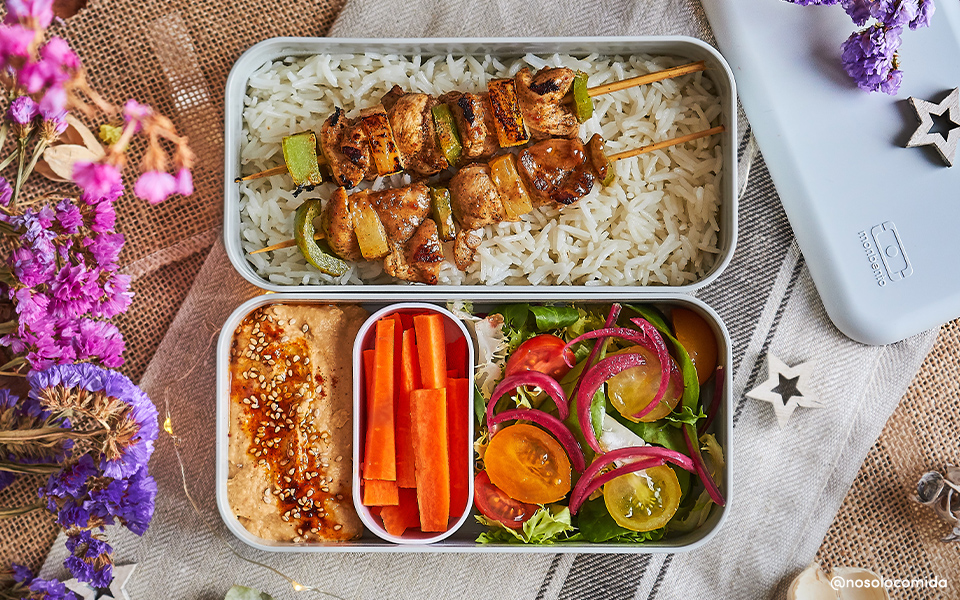 Ingredients
For the hummus:
550g cooked chickpeas, drained
50 g tahini (sesame paste)
50 ml of water
1 tsp of cumin (powder)
1 tsp of sweet paprika
1 pinch of ground black pepper.
1 pinch of salt
3 tsp of lemon juice
35 ml extra virgin olive oil
A few raw carrots (optional, as a side dish)
For the 12 chicken skewers:
450 g boneless, skinless chicken legs
8 ml extra virgin olive oil
8 ml lemon juice
70 g plain yoghurt
1 can of pineapple in its juice
2 tsp of Garam masala
1 tsp of Harissa
1 pinch of salt
1 pre-washed green pepper
12 wooden skewer sticks
Basmati rice (optional, side dish)
Salad (optional, side dish)
Instructions
Prepare the marinated chicken skewers: Clean the chicken thighs, removing skin and bones and Cut up the meat into large chunks. For the marinade, mix all the ingredients in a bowl: olive oil, lemon juice, plain yoghurt, pineapple juice, salt, Garam masala and Harissa. Stir in the chicken pieces and leave overnight in the refrigerator. Cut the green pepper and pineapple into pieces. To form your skewers, using the wooden sticks (thread alternatively) a piece of green pepper, a piece of marinated chicken and a piece of pineapple. Repeat on the full length of the stick. Heat a pan over medium heat with a drizzle of olive oil. Place your skewers in the pan and cover for 2 to 3 minutes until the chicken is well cooked, turn over the skewers halfway through. Then, increase heat for a few seconds to caramelize the pineapple and brown the meat. For the hummus, blend together all the ingredients: chickpeas, tahini, water, cumin, paprika, ground black pepper, salt, lemon juice and olive oil until reaching smooth mix.   For the basmati rice: Put a drizzle of olive oil in a saucepan and brown two garlic cloves with their skin. Once golden, add a cup of rice and brown again for one minute. Add two cups of water and salt. Bring to a boil, cover the pan and cook over low heat for 12 minutes. It is not necessary to stir the white rice during cooking to loosen the grains. You may also add herbs to the water for flavour: bay leaves, cardamom and fresh ginger.   Serve with a mixed salad and carrot sticks.