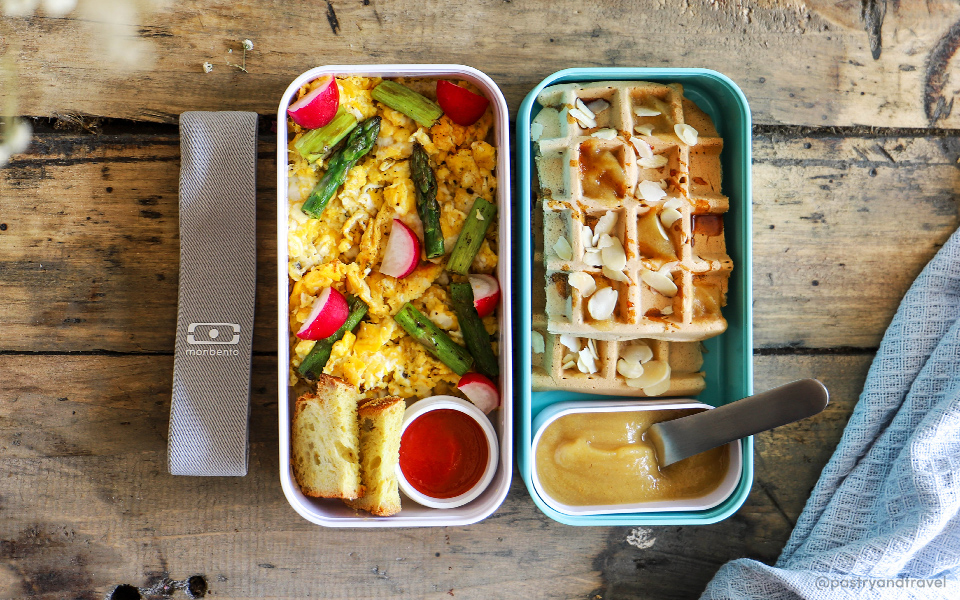 Ingredients
For the scrambled eggs:
Olive oil
2 green fresh asparagus
3 eggs
2 radishes
Tomato Sauce (type ketchup?)
2 slices of corn bread
For the waffles:
130 g of flour
1 tbsp of baking powder
1 tbsp of cinnamon powder
2 tbsp of sugar
150 ml of almond milk
Sunflower oil
Some slivered almonds
Caramel (liquid)
Instructions
Prepare the scrambled eggs:
Wash and slice the radishes. Set aside.
Heat a frying pan with a drizzle of olive oil. Brown the green asparagus. Leave to brown for about 8 minutes to ensure that the asparagus are cooked through but slightly firm. Remove the asparagus from the pan and set aside.
Break and beat the eggs in a bowl. Pour into the hot pan and mix with a wooden spatula to form scrambled eggs. Leave to cook for a few minutes.
Put the scrambled eggs in your bento.
Add the green asparagus, the slices of radish, the sauce cups filled with the tomato sauce and the slices of cornbread.
Prepare the waffles:
In a salad bowl mix the flour, baking powder, cinnamon, sugar. Add in the almond milk gradually and stir firmly until obtaining a very smooth batter.
Using a reusable brush, grease the waffle pan. Pour some batter and close the waffle iron . Leave to cook for 1 to 2 minutes before unmoulding.
Place the waffles in the second compartment of your bento and add a drizzle of caramel and the slivered almonds.
This recipe combines well with a homemade apple sauce too !
Presented products