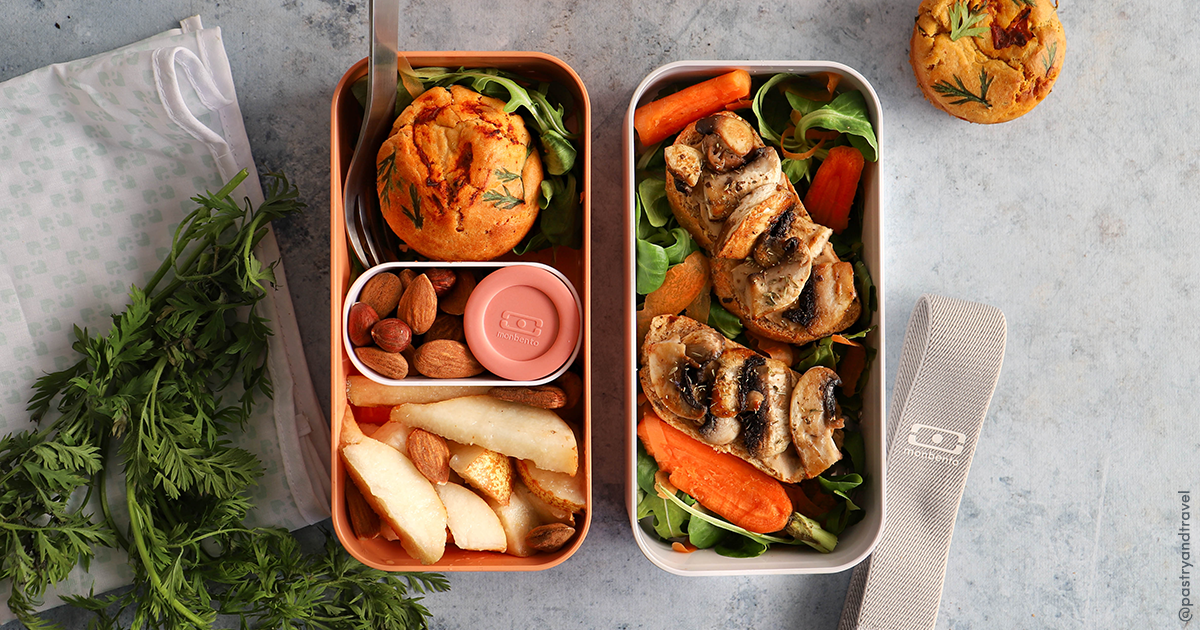 Ingredients
Ingredients for 2 MB Element:
For the toasts:
- 3 button mushrooms
- A few shoots of lamb's lettuce
- 2 slices of toasted bread
- A pinch of herbs of Provence
For 4 muffins:
- 60g of flour
- 1 Tbsp of oil
- 60g almond milk
- 1 Tbsp of pesto
- Some dried tomatoes
- 1 carrot and its foliage
Instructions
For the first level:
Cover the bottom of the bento with some shoots of lamb's lettuce.
Wash and cut the carrot and each in sticks. (Set aside the foliage that will be used for the second container).
Rince and cut the mushrooms in slices.
Place the slices on the toasted bread.
Sprinkle the toasts with the herbs of Provence and a drizzle of olive oil.
Brown in the oven for 10 minutes, then place the toasts in your bento.
For the muffins:
In a salad bowl, mix the flour, olive oil, almond milk, pesto, dried tomatoes and the chopped carrot foliage.
Pour the mixture in the muffin tins.
Bake the muffins for 15 to 20 minutes at 180°C.
This recipe goes along well with almonds and pear.
Little tips for zero-waste:
- Buy vegetables in bulk
- Prefer ORGANIC vegetables
- Use the previous day's bread for the toasts.
- Use the whole of the vegetable (peels & foliage)
Presented products