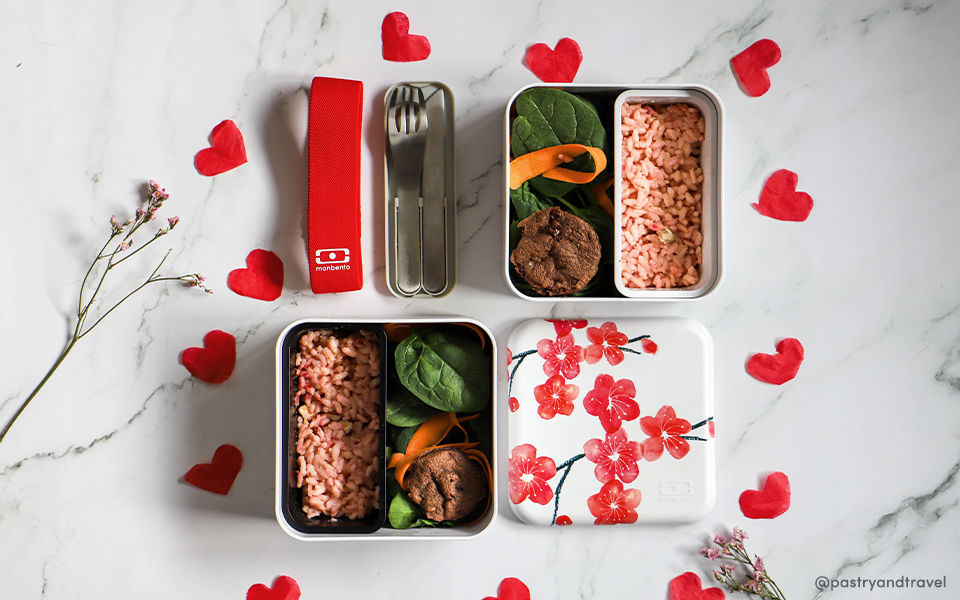 Ingredients
For 2 portions of risotto:
- 125 g risotto rice
- 3 glasses of water (250mL each)
- 1 vegetable stock cube
- 10 cL soy cream
- Salt, pepper
- 2 pinches beet powder
For 6 muffins:
- 1 ripe banana
- 50g coconut oil
- 40g white sugar (or brown sugar)
- 150g T55 wheat flour
- 1 tsp baking powder
- 25g cocoa powder
- 80g almond milk or soy milk
Instructions
For the risotto:
Cook the rice in a saucepan with 1 glass of water. Add the stock cube.
When all the water has evaporated, add the second glass of water and then add the third one.
When the rice is cooked, add the soy cream and then salt and pepper.
At the end of cooking, add the beetroot powder to give it the pink color.
Serve in the food cups with a salad in the other part of the bento box.
For the muffins:
Crush the banana and mix it in a bowl with the sugar and oil.
Mix the flour with the baking powder and cocoa.
Add it to the banana mix. Add the almond milk.
With a whisk, mix until you get a homogeneous dough.
Pour the mixture into muffin tins.
Bake in the oven for 15/20min at 180°C.
Store the muffins an airtight container. Eat them within 4 to 5 days.
Presented products