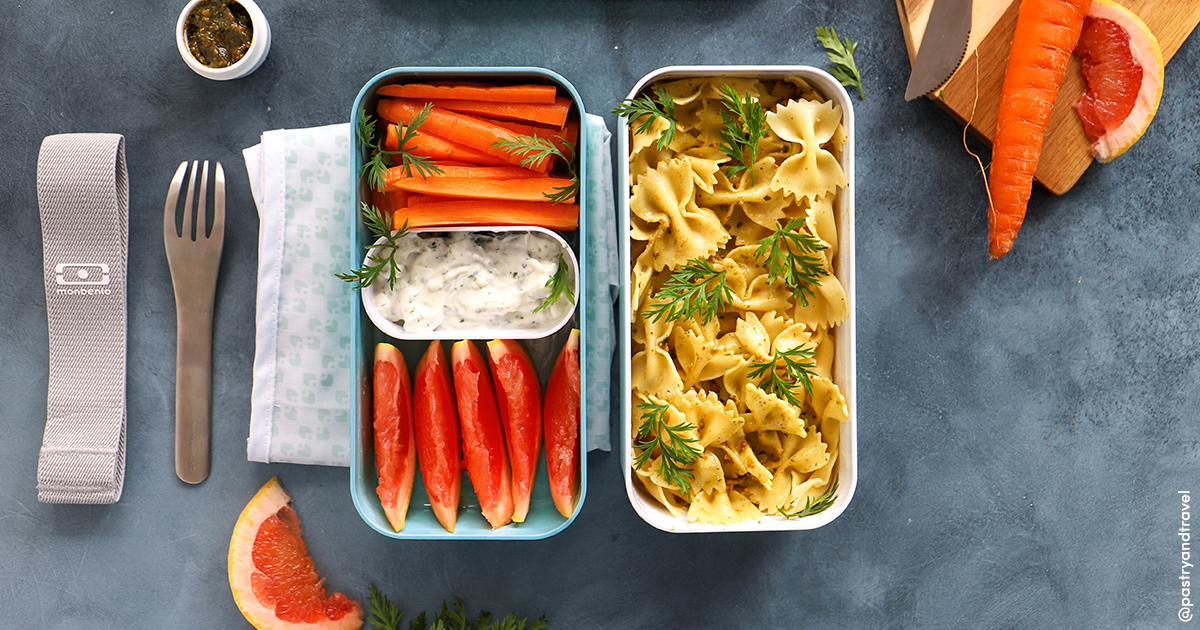 Ingredients
For 1 MB Original bento box:
- 100g of Farfalles
- A bunch of carrots with tops
- One clove of garlic
- A grapefruit
- A soya yogurt
- 25g of almonds
- 25g of cashew nuts (unsalted)
- Few blades of chives
- 80g of olive oil
- 2 Tbsp of parmesan
- 1 Tbsp of lemon juice
- Salt
- Pepper
Instructions
For the first container:
Clean the carrots and their tops.
Blend the carrot tops, almonds, cashew nuts, parmesan, the clove of garlic and olive oil to obtain a pesto. Add salt and pepper.
Cook the farfalle according to the instructions on the package.
Mix the cooked pasta with the pesto and put the mixture into the MB Original bento box.
Keep the remaining pesto for another recipe (to eat within a few days).
For the second container:
Slice the carrots into sticks.
Slice the grapefruit in halves and make thin slices.
Put the carrots and grapefruit pieces in the second container of the bento box.
For the food cup, mix the soy yogurt, lemon juice, and chopped chives.
The Zero Waste Tip:
Buy in bulk, bring your own containers
Use organic fruit and veggies to keep the skin on
Presented products
MB Original blue Crystal
Buy now