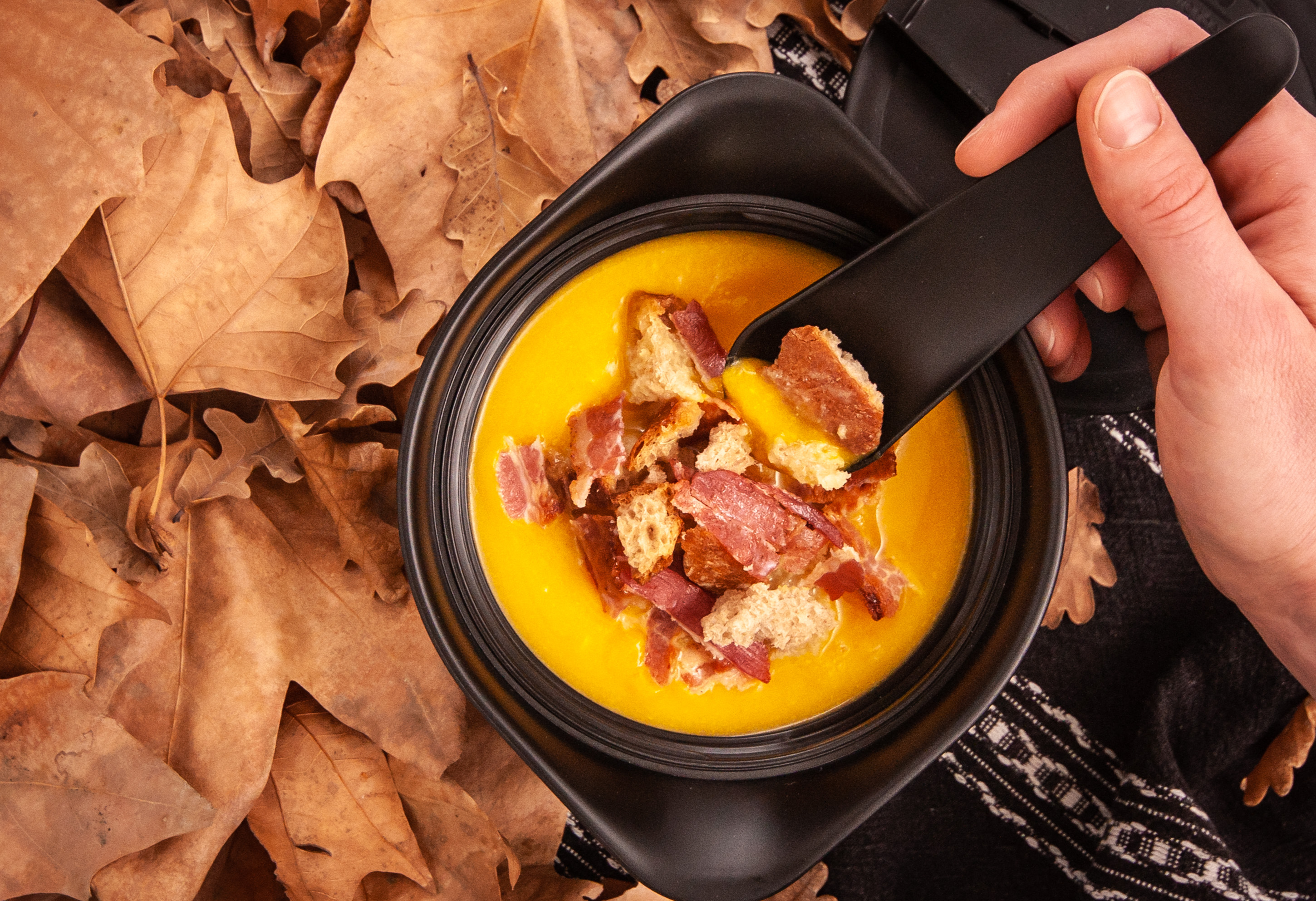 Ingredients
For 2 MB Lib:
For the soup:
-1/2 potimarron
-2 tablespoons of sour cream
- 1 onion
- 3 tablespoons of olive oil
 
For croutons:
- baguette or leftover bread
- olive oil
- Herbs of Provence
- a small clove of garlic (optional)
 
For bacon:
- 4 thin slices of bacon
- brown sugar
- cinnamon powder
Instructions
Prepare the soup: Cut the onion finely and brown it in a pot with the olive oil. Peel the pumpkin and cut it into small cubes (1 to 2 cm). Add the potimarron pieces to the onion and olive oil. Let them brown over low heat for 5min. Keep an eye on it.
Prepare the bacon: Turn on the oven at 250 ° C / Grill. Place the bacon slices on a cooking plate. Sprinkle lightly with cinnamon and brown sugar. Bake for 3-5 minutes. (Do not put the oven rack too close to the grill!)
Back to the soup: Pour water on the potimarron-onion mixture until covered.
Check the bacon and upturn the slices when they begin to caramelize. Leave them 3-5 minutes longer.
Prepare the croutons: break small pieces of bread (the size you want your croutons). Squeeze the garlic in a glass and mix it with 2 tablespoons of olive oil and herbs of Provence. Sprinkle the croutons with this mixture.
Take out the bacon. Place the croutons in the oven instead. Lower the oven to 120 ° C to allow them to dry.
Back to the soup: Once the potimarron pieces are tender, mix them finely until you get a smooth texture. Add water according to the desired density. Add pepper and salt.
Take out the croutons as soon as they are getting slightly brown (do not hesitate to turn them over during cooking).
Pour the soup into the MB Lib, do not fill it completely. Add a spoon of cream. Break the bacon and croutons into small pieces and add them to the soup.
Bon Appétit;)
Veggie alternative: replace the bacon by pieces of chestnuts!