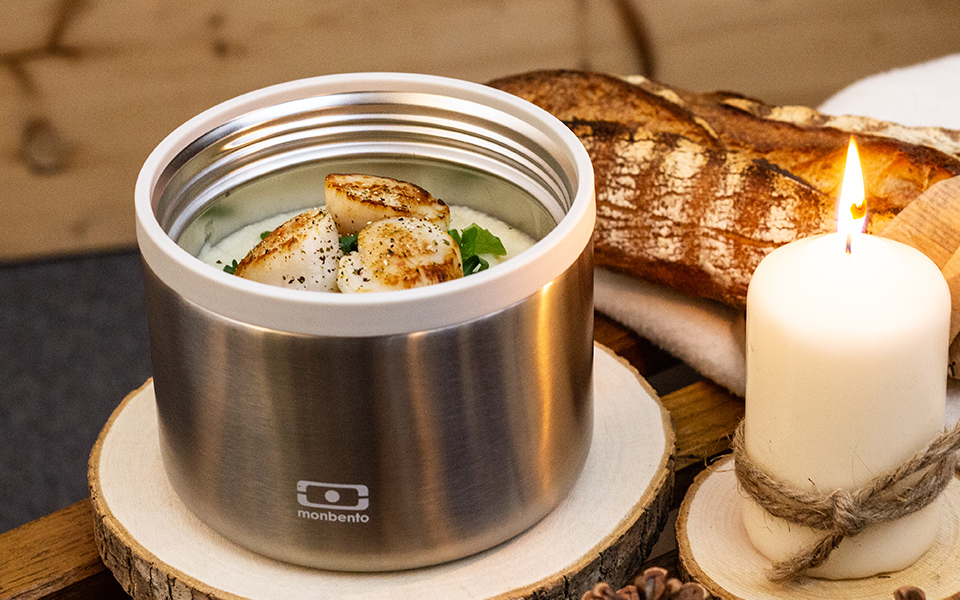 Ingredients
Ingredients for 2 MB Element bento boxes:
- 6 to 8 scallops
- 1 knob of butter
- salt and pepper
For the celeriac puree:
- 1/2 celeriac
- 2 potatoes
- 2 cases of fresh cream
- 1 CAC of walnut oil
- salt and pepper
- some young leaves like rocket
Instructions
Preparation of the puree:
Peel the celeriac and the potatoes.
Cut them into small pieces (about 2cm). Place in a pan and cover with salted water.
Boil the water and cook until the pieces of potatoes and celeriac are tender (about 20min).
Once cooked, drain and return to the pan with walnut oil and blend it until you get a smooth texture.
Add the cream and mix again.
Preparation of scallops:
Put the butter in a hot frying pan. Let it get slightly brown.
Place the scallops on the butter and cook for 30 seconds on each side until they get colored. Be careful not to cook them too much.
Place the puree in the MB Element. Add some young leaves before placing the scallops. Add salt and pepper.