Do you remember about this in season bento? The Blondie was with it. It is the white chocolate Brownie, but not brown anymore.
As I promised, here is the recipe of the Blondie.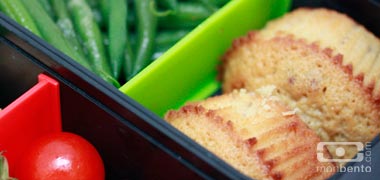 Ingredients:
100g flour
100g melted white chocolate
100g white chocolate in pieces
130g melted butter
4 eggs
130g sugar
Salt
70g walnuts
Recipe:
Turn on the oven, 356°F.
Melt chocolate (100g) and butter together. When cold, mix it with eggs and sugar.
Add a tiny bit of salt and flour. Mix it until it's getting homogeneous.
Then, add the pieces of chocolate and (half or third of pieces) and walnuts in pieces.
For the baking you have two possibilities: making a whole big Blondie or small in individual molds.
The big one need 35 minutes and small ones between 25 and 30 minutes. Contrary to other cakes Blondie is better if it is not baked enough than too much.
Enjoy !