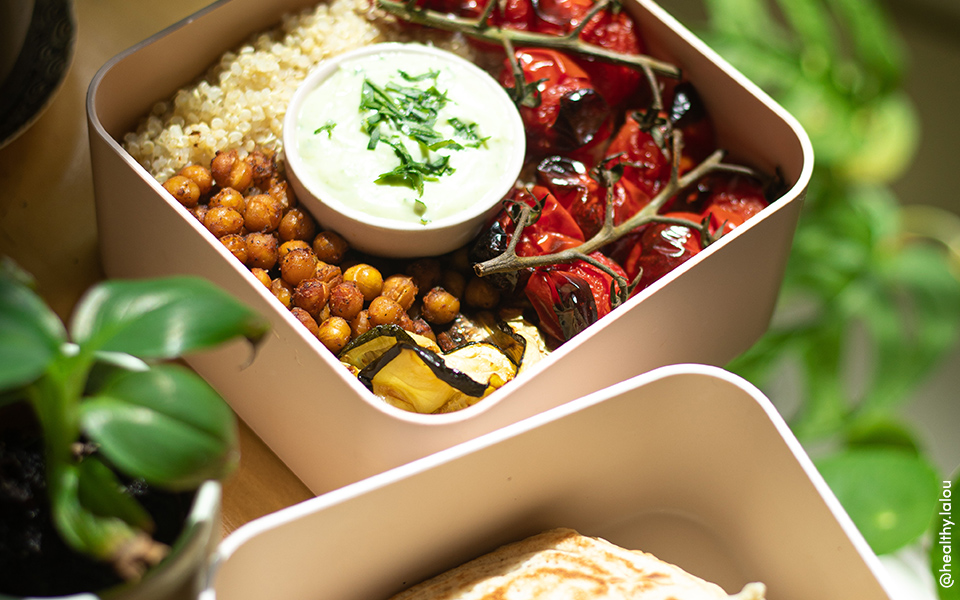 Ingredients
For the Buddha Bowl:
- 1/2 small zucchini
- 1 bunch of cherry tomatoes
- 80 g of quinoa
- 200 g of plant-based yogurt
- 1/2 organic lemon (zest and juice)
- About 20 g of flat-leaf parsley
- 30 g of white almond puree
- 80 g of cooked and drained chickpeas
- 1 tbsp. of olive oil
- 1 tsp. of smoked paprika
- 1 pinch of black pepper
- 1 pinch of herbes de Provence (or mixed herbs)
For the Peach Pancakes:
- 80 g of plant-based yogurt
- 10 g of oil
- 10 g of sugar
- 90 g of wheat flour
- 8 g of baking powder
- 80 g of water
- 2 ripe peaches
Instructions
For the buddha bowl:
Preheat the oven to 180°C.
Mix the chickpeas with the oil and spices and bake for 40 min.
Using a vegetable peeler, cut the zucchini into tagliatelle (zoodles) and bake them for 10 to 15 minutes at 180°C (or cook them in a frying pan over high heat, for just a few minutes).
While the oven is on, bake the cherry tomatoes for 15 minutes.
Cook the quinoa according to package directions.
Mix the yogurt, lemon juice and zest, flat-leaf parsley and almond puree to obtain the sauce to carry in the MB Temple M airtight container.
Place all the cooled ingredients in the first compartment of the MB Square bento box.
Sam's tip: Roasted chickpeas are also great as an appetizer, with different spices to vary the flavors!
For the Peach Pancakes:
Mix the yogurt, oil and sugar.
Add the flour and baking powder and mix.
Gradually add the water, stirring.
Cut the peaches in half, remove the pits and cut them into thick slices.
Dip a peach slice into the pancake batter and place it on a hot pan. Add a little pancake batter on top.
Sam's tip: Use a pie ring to make a perfectly round pancake (by placing the peach in the middle of the ring, then filling it 2/3 with batter), but it's not necessary.
Flip it, set aside and remove the ring if used. Repeat until there is no batter or peaches remaining.
Place the pancakes in the second compartment of the MB Square.
Presented products