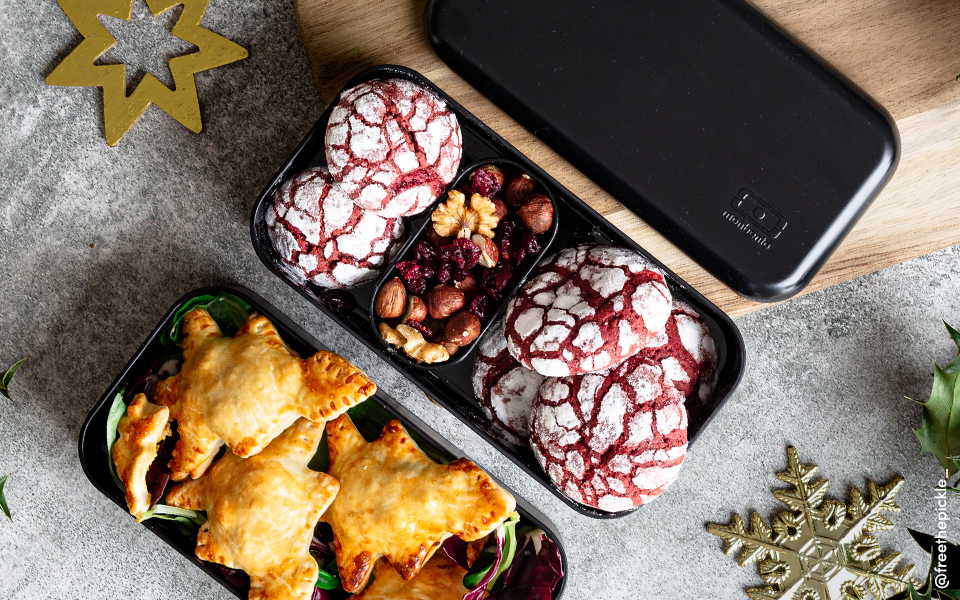 Ingredients
For the Christmas tree pies:
150 g of shallots (about 7)
1 celery stick
100 g of shiitake mushrooms (or button mushrooms)
1 tsp of olive oil
½ tbsp of thyme
1 bay leaf
2 garlic cloves, pressed
180 g of raw pumpkin
100 g of cooked chestnuts
100 ml of water
50 g of smoked tofu, crumbled
Salt
Pepper
2 rolls of vegan puff pastry
3 tsp of plant-based cream (or 1 egg)
For the red velvet crinkle cookies:
250 g of flour
2 tbsp of cocoa powder
1 tsp of baking powder
2 eggs
50 g of melted butter
120 g of sugar
1 tsp of vanilla extract
100 g of melted white chocolate
½ tsp of red coloring
50 g of powdered sugar
Instructions
For the Christmas tree pies:
Preheat the oven to 200°C.
Mince the shallots, celery and shiitake mushrooms.
Heat a frying pan with olive oil and sauté the shallots, celery and shiitake mushrooms with the thyme, bay leaf and garlic cloves.
Peel and dice the pumpkin and roughly crumble the chestnuts. Add them to the pan with water. Brown for 20 minutes, covered, stirring occasionally until the pumpkin starts crumbling.
At the end of cooking, add the smoked tofu.
Using cookie cutters - or a knife - cut out the Christmas trees from the pastry.
Place a small amount of filling on a tree and cover it with another piece of pastry, before sealing the edges with a fork.
Place the Christmas trees on a baking sheet previously covered with a baking mat.
Brush with plant-based cream and bake for 15 minutes.
Once cooled, place the pies in the MB Original bento box and serve them with cakes and dried fruits.
For the red velvet crinkle cookies:
Preheat the oven to 180°C.
In a bowl, mix the flour, cocoa powder, baking powder and salt. Set aside.
In another bowl, beat the eggs and sugar. Add the melted butter, vanilla and melted chocolate and beat again until obtaining a smooth batter.
Add the red food coloring to achieve the desired shade.
Add the dry ingredients and stir until just combined. The resulting dough should be quite sticky and difficult to handle.
Cover the bowl and place it in the freezer for 30 to 45 minutes, or until the dough is firm.
Cover the baking sheet with a baking mat and place the powdered sugar in a bowl.
Using a spoon, take a small amount of dough and form a ball before generously coating each ball with powdered sugar. Roll them once more to give them a perfectly round shape and place them on the baking sheet.
Bake for 10 to 12 minutes. The cookies will be very soft when they come out of the oven but will firm up as they cool down.
Let the cookies cool for 5 to 10 minutes before transferring them to a wire rack to cool completely before placing them in the MB Original bento box.
Natacha & Daniel's tip: placed in an airtight container, the cookies can be kept for up to a week and are delicious with coffee or tea!
Presented products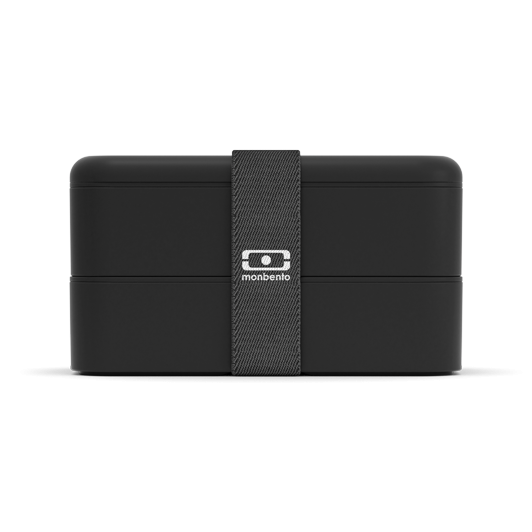 MB Original black Onyx
Buy now