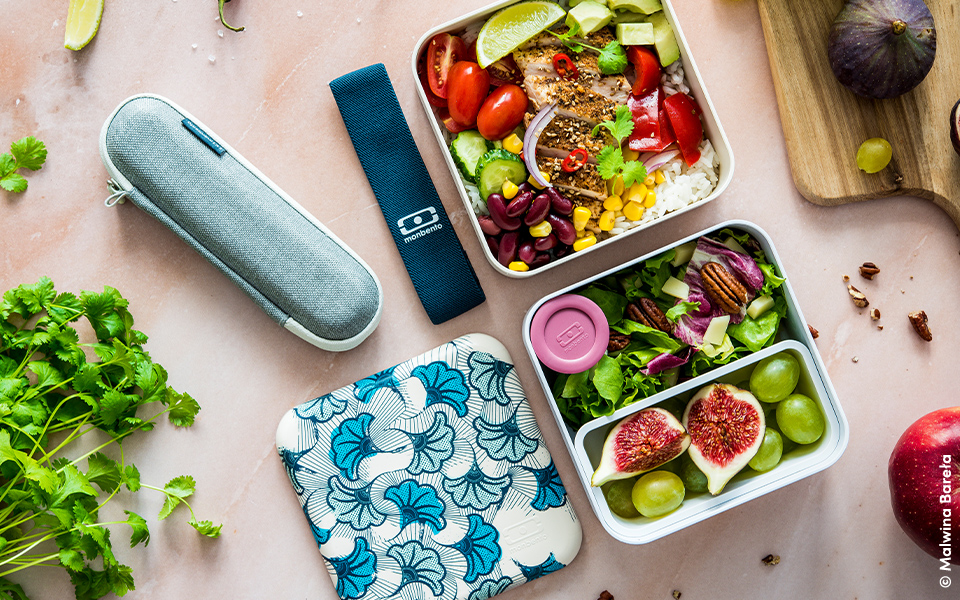 Ingredients
For the Mexican bowl:
 

150 g of cooked rice

1 lime
1 tbsp of chopped cilantro
2 tsp of herb flavored olive oil
Salt
Pepper
1 turkey breast, 2 cm thick (approx. 150 g)
1 tsp of taco seasoning
½ ripe avocado, peeled and stoned
50 g of cherry tomatoes, halved
1 small cucumber, chopped
1 tbsp of sliced red onion
40 g of red kidney beans, cooked
40 g of corn, cooked
60 g of roasted red bell pepper, sliced
1 tsp of toasted sesame seeds
Some cilantro leaves
Some fresh chili peppers
Olive oil
For the green salad:
 

A handful of a salad mix

30 g of Gruyère cheese, cubed
1 tbsp of pecan nuts
3 tsp of truffle flavored olive oil
A pinch of salt and pepper
Instructions
For the Mexican bowl:
Place the rice, half of the lime juice, cilantro and olive oil in a bowl. Season to taste and mix before placing the mixture in the first container of the MB Square bento box.
Coat the turkey breast evenly with the taco seasoning.
Heat a lightly oiled pan and grill the turkey breast for 3 to 4 minutes on each side, until the meat is cooked through. Cut into medium-thick slices.
Cut the avocado into cubes.
Malwina's tip: brush the avocado with lime juice to prevent browning.
Place the meat and vegetables on top of the rice and sprinkle with sesame seeds, cilantro leaves and fresh chili peppers.
For the green salad:
Place the salad mix in the second container of the MB Square bento box. Sprinkle with cheese and pecan nuts.
Pour the olive oil into the MB Temple M sauce cup and drizzle over the poke bowl and salad before eating.
Serve with some seasonal fruit for dessert.