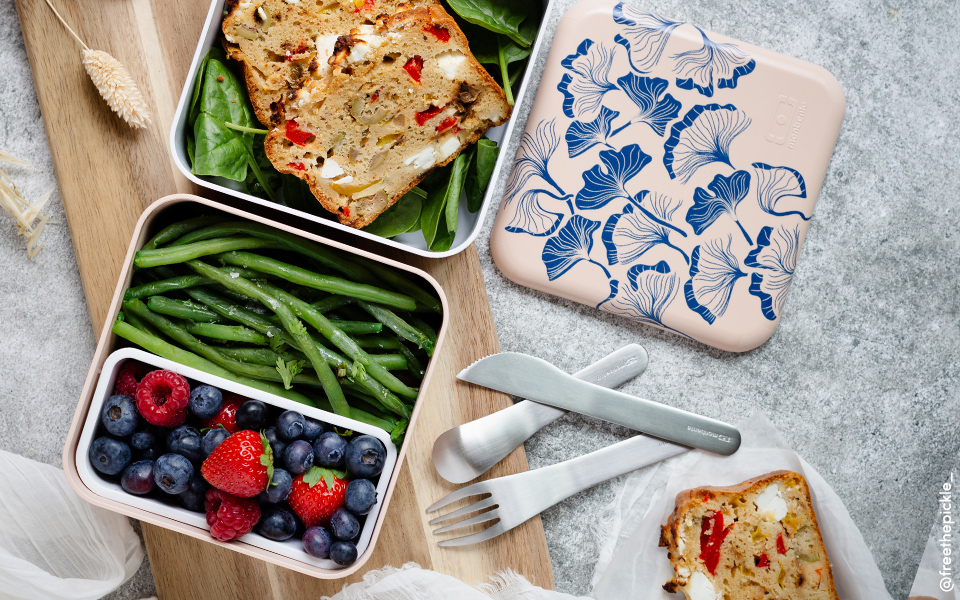 Ingredients
1 yellow bell pepper
1 red bell pepper
2 spring onions or 1 small yellow onion
180 g of flour
1 pinch of salt
1 packet of baking powder
1 pinch of thyme
3 eggs
100 ml of olive oil + 1 tbsp for cooking
100 ml of vegetable milk
50 g of pitted green olives
200 g of Feta cheese
Instructions
Preheat the oven to 180°C.
Clean and cut the bell peppers into strips. Mince the onions. In a frying pan, heat a tablespoon of oil on medium heat.
Add the bell peppers and onions and fry for 10 minutes. Line a cake pan with some butter and then flour to make it easier to unmold.
In a large bowl, mix the flour, salt, yeast, and thyme. Add the eggs, oil and milk and beat until obtaining a smooth mixture.
Cut the olives in half. Crumble the Feta cheese and set ⅓ of the portion aside.
Add the bell peppers, olives and the remaining ⅔ of Feta cheese into the cake batter.
Pour the mixture into the pan and sprinkle the remaining Feta cheese on top. Place in the oven at half height for 50 min.
The cake is ready when the blade of a knife inserted in the middle comes out clean.
Once the cake is cooled, cut some slices and place them in the MB Square bento box, along with your favorite salad mix, some vegetables and seasonal fruit.
Presented products