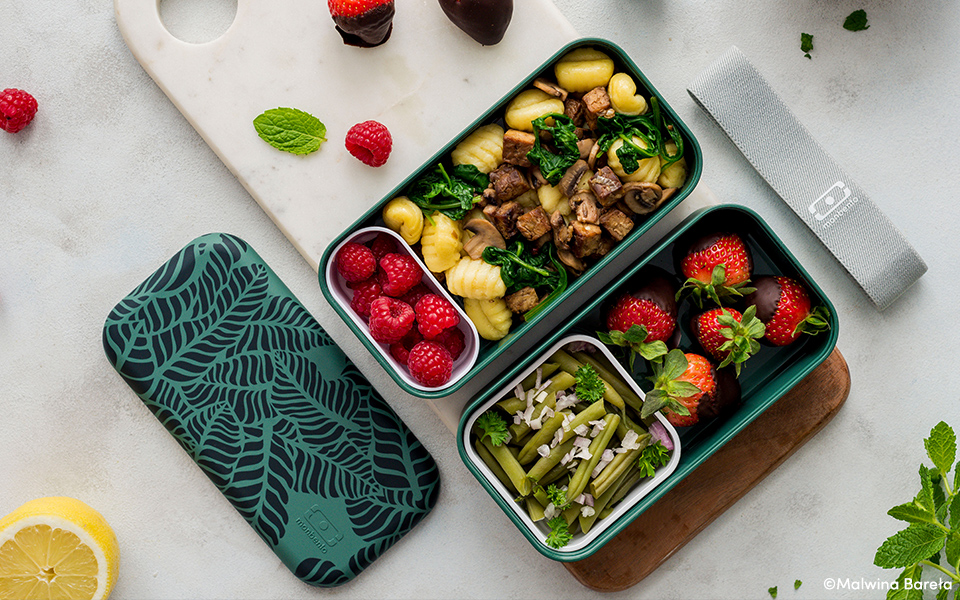 Ingredients
100 g of green beans, stemmed and cooked
1 onion
1 tsp of sesame oil (or other oil)
1 tsp of mustard
2 tsp of salty soy sauce
Some parsley, chopped
The juice of ½ lemon
1 tsp of olive oil
Garlic
100 g of mushrooms, sliced
100 g of Tempeh, diced
150 g of gnocchi
100 g of fresh spinach
150 g of strawberries
1 or 2 squares of 80% dark chocolate
Instructions
STARTER
MAIN COURSE
DESSERT
Green bean

and onion salad

Gnocchi with spinach, mushrooms, and tempeh
Chocolate-covered strawberries
---
For the starter:
Cut the green beans into small pieces and place them in the first compartment of the MB Original bento box.
Peel and finely chop the onion and sprinkle half of it on the green beans.
For the dressing:
In a small airtight container, place the sesame oil, mustard, one tsp of salty soy sauce, the chopped parsley and lemon juice. Shake until obtaining a smooth dressing and pour it in the MB Temple S sauce container. Drizzle over the salad before tasting.
For the main dish:
Heat a frying pan. Add the olive oil, garlic and the second half of the minced onion.
Add the mushrooms and one tsp of salty soy sauce and cook for a few minutes.
Add the temped dices.
Add the gnocchi and spinach, mix, and let cook covered for a few minutes. Adjust seasoning if necessary.
Place the dish in the second compartment of the MB Original bento box.
For the dessert:
Melt 1 or 2 squares of 80% dark chocolate and place them in a small, shallow container with a wide opening.
Dip the strawberries halfway into the chocolate before placing them on a baking sheet previously covered with a baking mat.
Make Me Healthy's tip: you can also spread the chocolate over the strawberries using a silicone spatula.
Once the strawberries are covered with chocolate, let them cool down in the fridge before placing them in the lunch box.