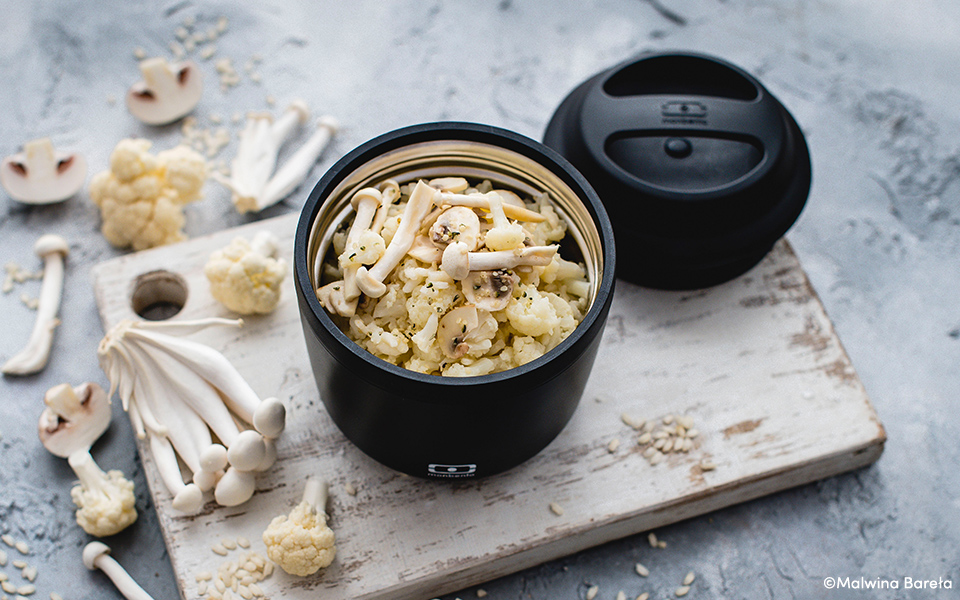 Ingredients
1 small onion, 

diced

 

A pinch of dried thyme

 

70 g of risotto rice

 

70 ml of dry white 

w

i

ne

 

600 ml of vegetable stock

 

100 g of 

mushrooms

, 

sliced

 

30 g of shimeji mushrooms 

 

100 g of small cauliflower florets, 

cooked

 

2 

t

bsp of olive oil 

 

2 

t

bsp of butter

 

2

 t

bsp of grated Parmesan

 

cheese

 

 

Salt 

 

Freshly 

g

round 

p

epper

 
Instructions
In a saucepan, pour the vegetable stock and bring to a boil. Remove from heat and set aside.  
In a large saucepan, heat the olive oil, add the onion and fry over medium heat for about 5 minutes, until softened.  
Add the rice and thyme, stir with a wooden spoon to cover the rice with olive oil and cook until just turning translucent, for about 1-2 minutes.  
Pour in the wine and bring to a boil, stir and cook until liquid evaporates.  
Add one big ladle of hot stock. Stirring continuously, cook until the liquid is absorbed. Repeat this step until the rice is cooked al dente, for about 20-25 minutes.  
In the meantime, in a pan, melt one tablespoon of butter. Add the mushrooms and cook for 5 minutes. Add the shimeji mushrooms, stir, season with salt, and cook for 2 minutes.  
About 2 minutes before the end of the risotto's cooking time, add the mushrooms and cauliflower to the saucepan and stir.  
Remove the pan from heat, add one tablespoon of butter and the grated Parmesan cheese, and mix well with a wooden spoon to obtain a creamy consistency. Season to taste with salt and freshly ground pepper.  
Put the hot risotto into your MB Element insulated bento box and drizzle with some olive oil. 
Presented products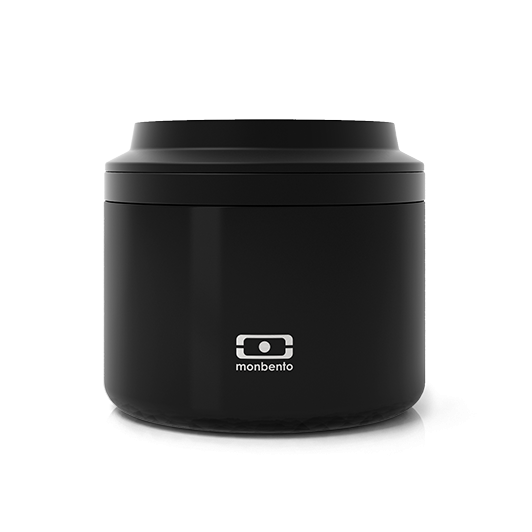 MB Element black Onyx
The insulated lunch box
Buy now