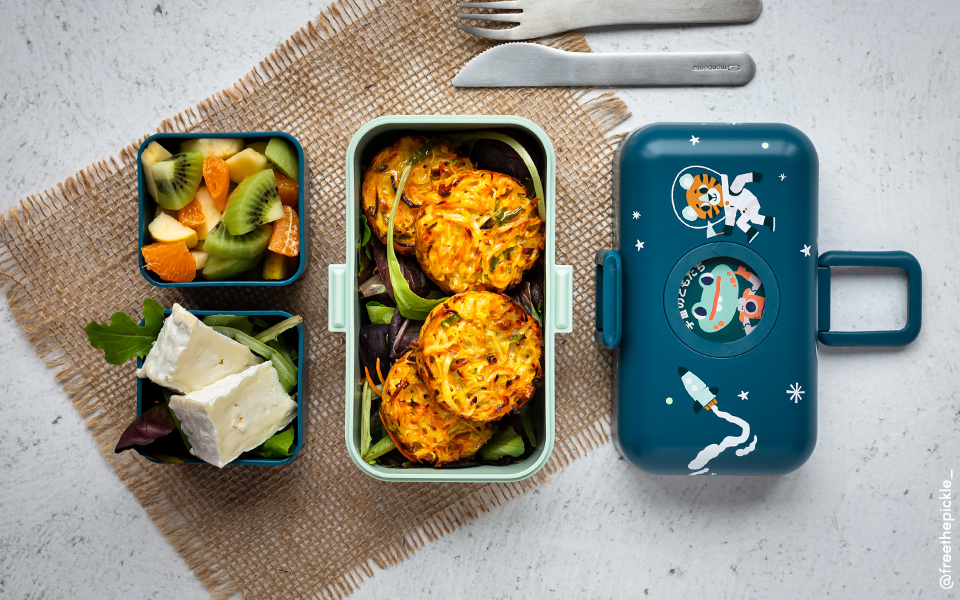 Ingredients
1 

small

 

leek

 (

approx.

 150 g)

 

3 

po

tatoes

 (

approx.

 150 g)

 

3 

ca

rrots

 (

approx.

 150 g)

 

4 

eggs

 

30 g 

of 

flour

 

100 g 

of 

grated cheese (

C

heddar or 

E

mmental

)

 

Olive 

oil

 

S

alt

 

Pe

pper

 
Instructions
Preheat the oven to 190°C. 
Wash then slice the leek finely. 
Peel and grate the potatoes and carrots.  
In a bowl, beat the eggs and add the vegetables, flour, cheese, salt and pepper. Mix well.  
Pour about 1 cm to 1.5 cm of the mixture into muffin pans or small ramekins to obtain small patties.  
Natacha and Daniela's tip: if they are not non-sticky, remember to lightly oil the molds.  
Place in the oven halfway up for 25 to 30 minutes. At the end of the cooking time, let the patties cool down before placing them in the MB Tresor bento box.  
Serve with some fresh salad leaves as a side, cheese and fresh fruit for a complete meal.  
Presented products